Earnings Signal U.S. Stocks Are Less Than Expensive to Bernstein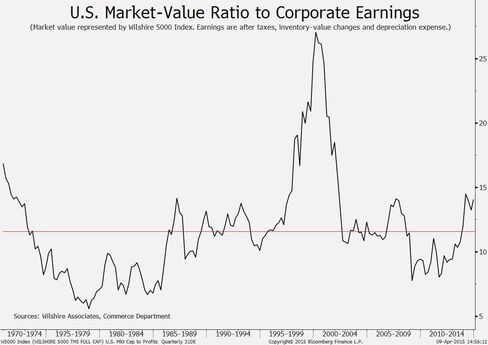 Stocks are fairly valued relative to corporate earnings after more than six years of a U.S. bull market, according to Richard Bernstein, who runs an investment firm bearing his name.
The attached chart displays the ratio of market value for publicly traded companies to profit for all businesses, a gauge that Bernstein used two days ago in a report. The Wilshire 5000 Index represents companies' value. The earnings figures are put together by the Commerce Department and reflect taxes, changes in inventory values and depreciation expense.
Earnings are a more meaningful indicator to compare with market value than U.S. economic activity, represented by gross domestic product before inflation, Bernstein wrote. Berkshire Hathaway Inc.'s Warren Buffett favored nominal GDP in a 2001 article for Fortune magazine.
While stocks look expensive by comparison with the GDP gauge, they are more reasonably priced relative to profit, he wrote. Price-earnings ratios suggest the Standard & Poor's 500 Index is "conservatively valued" after adjusting historical figures for inflation, the New York-based investor added.
"The models do not suggest gloom and doom lie immediately ahead," wrote Bernstein, chief executive and chief investment officer of Richard Bernstein Advisors LLC. "Our portfolios are positioned accordingly." He didn't elaborate.
Bernstein's firm managed or advised on $3.4 billion of assets at the end of last year. The total included three mutual funds sold by Eaton Vance Corp. and three exchange-traded funds sponsored by First Trust Portfolios LP.
Before it's here, it's on the Bloomberg Terminal.
LEARN MORE