Shanghai Composite Index Climbs Above 4,000 After Inflation Data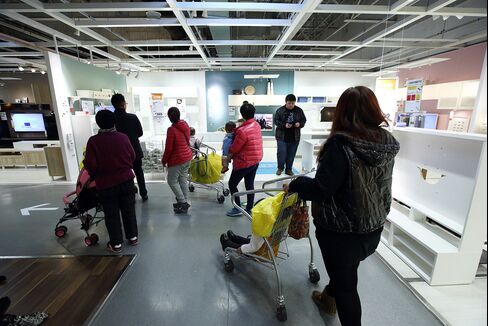 China's stocks rallied, with the Shanghai Composite Index closing above the 4,000 level for the first time since 2008, after data showed deflationary pressures easing.
Commodity and consumer companies led gains with China Shenhua Energy Co. and liquor maker Wuliangye Yibin Co. rising at least 2 percent. Data showed consumer prices grew at the same pace last month as in February and declines in costs at the factory gate stabilized. Wangsu Science & Technology Co. jumped 10 percent as a rally for technology companies sent the Shenzhen Composite Index to a record high.
The Shanghai Composite increased 1.9 percent to 4,034.31 at the close, capping a 4.4 percent rally this week. The gauge had briefly surpassed that milestone on April 8 after a world-beating rally spurred by new investors flocking to equities at a record pace and traders taking out unprecedented debt to amplify their buying power.
"There is an increasing gap between economic fundamentals, which now seem rather stable, and stock market sentiment by local investors," said Gerry Alfonso, a director at the international business department of Shenwan Hongyuan Group Co. in Shanghai. "Large caps, excluding financial stocks, have experienced a more stable environment recently and their valuations are now more attractive."
The Hang Seng China Enterprises Index in Hong Kong rose 1.7 percent, extending this week's jump to 10 percent, the most since December 2011. The Hang Seng Index added 1.2 percent, taking this week's rally to 7.9 percent. The CSI 300 Index advanced 1.9 percent. Shanghai's trading volumes were 10 percent above the 30-day average.
Inflation Data
China's consumer-prices index rose 1.4 percent from a year earlier, compared with the median estimate of 1.3 percent, a release from the statistics authority showed. The producer-prices index fell 4.6 percent, compared with the previous month's 4.8 percent, which was also the estimate.
Fears of an imminent slide into deflation appear excessive, said Bloomberg economists Tom Orlik and Fielding Chen. Central bank chief Zhou Xiaochuan has said that officials need to be vigilant in monitoring disinflation and that they have "room to act" with interest rates and quantitative measures.
Gauges of energy and material stocks in the CSI 300 climbed at least 1.8 percent. Wintime Energy Co. jumped 10 percent. The Ministry of Finance is studying a cut in the coal value-added tax amid falling prices, the China Securities Journal reported, citing unidentified industry participants. An industry body will try to stabilize prices by curbing output, the newspaper reported. Angang Steel Co. rallied 3.5 percent.
Shenzhen Link
The Shenzhen index jumped 2.5 percent. BOE Technology Group Co. soared 10 percent. Preparations for a stock link program between Shenzhen and Hong Kong will be completed by July, the Xinhua News Agency cited Hong Kong Exchanges & Clearing Ltd. CEO Charles Li as saying.
Hong Kong's stock exchange said its systems have plenty of capacity to handle greater inflows from mainland China, including a trading connection with the Shenzhen bourse, even after a week of intense volume.
Hong Kong shares rallied this week as China's move in March to expand link access to more mainland funds, along with growing speculation that valuation gaps between the two markets will close, is driving the surge in purchases. Valuation discounts in the city reached the most extreme levels since 2011.
The H-shares gauge trades at 9.4 times estimated profit for the next 12 months, compared with 12.6 for the Hang Seng index and 15.4 for the Shanghai Composite.
"People are finally realizing that there are opportunities in Hong Kong," Shane Oliver, head of investment strategy at AMP Capital Investors Ltd., told Bloomberg Television. "I think it has a lot of further to go. We like the China A-share market and we don't think it's overly frothy at the moment."
Bearish wagers on the Shanghai exchange have climbed more than threefold in the past nine months and reached a record 7.46 billion yuan on Thursday, a period in which the benchmark equity index jumped 94 percent. Across the border in Hong Kong, where the Hang Seng has surged 7.6 percent in just the past two days, the gauge's 20 most-shorted stocks rose 18 percent on average.
Before it's here, it's on the Bloomberg Terminal.
LEARN MORE