Carrefour Shares Reach Four-Year High After Quarterly Sales Rise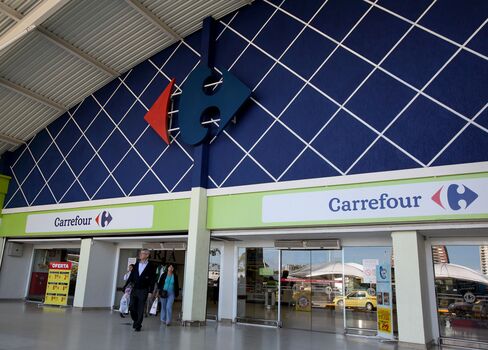 Carrefour SA shares reached a four-year high after France's largest retailer reported quarterly sales that slightly exceeded predictions and indicated earnings may rise as much as 6.7 percent in 2015.
The stock rose as much as 3.4 percent to 33.25 euros in Paris, the highest intraday price since November 2010. First-quarter revenue increased 6.2 percent to 21 billion euros ($22 billion), Carrefour said Friday, as growth at home and in Brazil compensated for weakness in China. The analyst consensus was 20.8 billion euros.
Carrefour is ramping up investment this year as it revives under Chief Executive Officer Georges Plassat, who is slated to return to the office this month after surgery in early February. The company has earmarked as much as 2.6 billion euros for projects including modernizing stores, adding pick-up points for online orders in France and opening three of five logistics centers planned in China by 2016.
"The turnaround plan has stopped the bleeding and improved the business in France," Bruno Monteyne, an analyst at Sanford C. Bernstein, wrote in a note to clients.
Analysts' expectations of full-year recurring operating income of 2.53 billion euros to 2.55 billion euros are "reasonable," Chief Financial Officer Pierre-Jean Sivignon said on a call with reporters. Earnings on that basis totaled 2.39 billion euros in 2014.
French Gains
Even with a competitive environment in France, Carrefour boosted traffic in the quarter at all the types of stores it operates, Sivignon said. French hypermarket sales climbed 2.1 percent at outlets open at least a year at constant currencies, excluding fuel and calendar effects, beating estimates.
In Brazil, where sales on that basis climbed 8.4 percent, conditions for Carrefour's local unit to sell shares in an initial public offering "aren't there yet," Sivignon said. Still, the retailer will be technically ready to conduct an IPO there by the end of the second quarter, he said.
"The notable disappointment is China where sales are well down and management announces the deployment of another new plan," said Clive Black, an analyst at Shore Capital Group.
Like-for-like revenue, excluding calendar effects and car-fuel sales, fell 14 percent in China, 4 percentage points more than analysts predicted. The market continues to be marked by frugal consumption, Carrefour said.
Brazilian billionaire Abilio Diniz raised his family's stake in Carrefour to 5.07 percent, his holding company said Thursday. Peninsula is now the fourth-largest shareholder in the French retailer.
The shares were trading up 2.3 percent at 32.89 euros as of 10 a.m., giving Carrefour a market valuation of about 24 billion euros.
Before it's here, it's on the Bloomberg Terminal.
LEARN MORE