Blankfein Touts Benefits of Goldman Being Smaller Than Rivals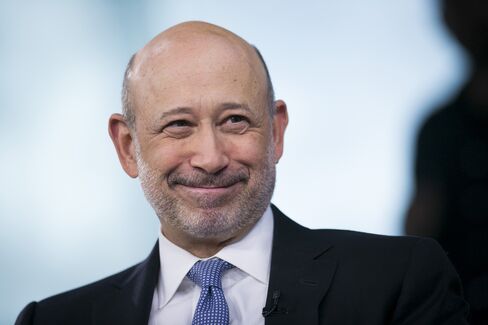 Goldman Sachs Group Inc. Chief Executive Officer Lloyd C. Blankfein said he likes that his firm is the little guy on Wall Street.
A smaller balance sheet and fewer businesses provide "the ability to adapt quickly," Blankfein wrote Friday in his annual letter to shareholders. He noted that the bank's $856 billion in assets is half the average size of its four largest U.S. peers and Goldman Sachs employs less than one-fifth as many people.
Bigger rivals including JPMorgan Chase & Co. have touted the advantages of large balance sheets and myriad units that share costs and provide additional revenue to each other. The discussion has come in response to calls from some analysts and investors that the largest lenders would be worth more broken up. New York-based Goldman Sachs, which doesn't have a large consumer business, has faced fewer of those calls.
"In short, we are not simple, but we are simpler," Blankfein wrote.
Before it's here, it's on the Bloomberg Terminal.
LEARN MORE