Why the Justice Department May Treat Ferguson and North Charleston Shootings Differently
The quick arrest of the North Charleston officer charged with murder for shooting a black man in the back may mean the Justice Department will bide its time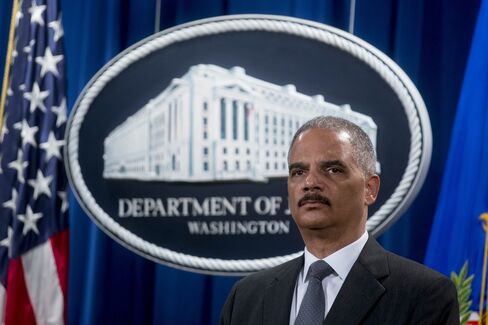 When Ferguson police officer Darren Wilson shot and killed Michael Brown in August of last year, several unanswered questions surrounded the shooting. Officer Wilson argued that he'd committed a justifiable homicide, and there was little evidence to suggest otherwise. There was no video of the incident, and the St Louis County decided not to indict. The U.S. Department of Justice also investigated, eventually deciding not to prosecute Wilson on federal civil rights charges, but it released a highly critical report on racial bias and profiling in the Ferguson Police Department.
Following the fatal shooting of a black man by a white police officer in North Charleston, S.C., over the weekend, the Justice Department's Civil Rights Division announced it has opened an investigation into possible civil rights violations. The FBI is also investigating.
Unlike in the Ferguson case, the officer in the North Charleston shooting, Michael Slager, 33, has been charged with murder by state authorities. The charges followed the release of a witness video showing Slager shooting an apparently unarmed Walter Scott, 50, in the back as he ran away.
The state charges don't prevent the Justice Department from bringing federal civil rights charges against Slager, but the department might initially take a back seat because local authorities acted so quickly to arrest and charge him with murder, according to civil rights experts.
"What often happens is the local and federal authorities will sit down and hash out where the trial is going to take place," says Brian Levin, a law professor at the California State University at San Bernadino who specializes in civil rights. Boston Marathon bomber Dzhokhar Tsarnaev, for example, was prosecuted in federal court after an agreement between federal and state authorities. "But in this case, [Officer Slager] is already in state custody. South Carolina moved swiftly to put him there and charge him. So that's that—the prosecution is theirs. I don't think there's a level of public interest that will require the federal government to step in immediately."
Federal authorities could still take up the case if Slager ends up being acquitted or if authorities decide that his case warrants federal charges. An investigation by the San Francisco Chronicle into murder charges against U.S. officers for killings in the line of duty in the past 20 years uncovered 12 cases involving 20 officers. Not one was convicted of murder, while three cases are still pending.
After state charges were thrown out against five New Orleans police officers accused of killing 17-year-old James Brissette and 40-year-old Ronald Madison on the Danziger Bridge shortly after Hurricane Katrina, federal authorities took interest in the case. In 2012, all the officers were sentenced on civil rights violations in connection with the killings and a coverup. (The convictions were later overturned.)
State murder charges are also simply easier to prosecute than federal civil rights charges, says Margot Schlanger, a former Justice Department civil rights attorney who now works as a law professor at the University of Michigan. In state courts, murder charges can rely on an officer's recklessness, while under federal law, prosecutors have to prove that the crime was an intentional, deliberate act, she says.
The Justice Department could also decide to do a wholesale probe of the North Charleston police department, which is 18 percent black, compared with the general population, which is 45 percent black, according to Charleston's Post & Courier.
The DOJ says on its website: "We may act if we find a pattern or practice by the law enforcement agency that systemically violates people's rights. Harm to a single person, or isolated action, is usually not enough to show a pattern or practice that violates these laws."
"One bad shooting is not a bad pattern or practice," Schlanger says.
Before it's here, it's on the Bloomberg Terminal.
LEARN MORE