Top Forecasters See Thai Rate Cut Weakening Best Asean Currency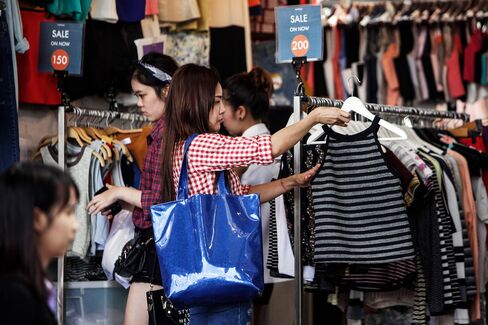 The most-accurate Asian currency forecasters see the Thai baht, Southeast Asia's best performer, falling on prospects the central bank will cut interest rates further to end deflation.
ABN Amro Bank NV and Australia & New Zealand Banking Group Ltd. expect the Bank of Thailand to ease policy again before year-end and see baht losses of 4.3 percent and 5.7 percent respectively. The central bank unexpectedly lowered borrowing costs to 1.75 percent from 2 percent on March 11. The one-year swap rate is now 1.73 percent, just below the benchmark, repeating a signal that occurred before last month's reduction.
The baht has rallied twice as much as its nearest regional counterpart in 2015, hurting exports and compounding the worst bout of deflation since 2009 in a nation that's been ruled by a military junta since May. Nomura Holdings Inc. forecasts a rate cut in June, which would coincide with the earliest indications of when the U.S. will start tightening.
"We expect the baht to weaken as growth remains sluggish and there is the potential for further interest-rate cuts," Khoon Goh, Singapore-based senior foreign-exchange strategist at ANZ, said by e-mail April 8. "With our expectations that the Federal Reserve will begin policy normalization later this year, this will lead to a stronger U.S. dollar, which will see the baht fall."
Bond Inflows
Overseas investors have plowed funds into Thai debt this year to take advantage of government 10-year yields that are 3.26 percent when adjusted for inflation, the second-highest among the region's five-biggest economies after Malaysia's 3.77 percent. Global funds bought a net $427 million so far in April, taking purchases this year to $662 million, Thai Bond Market Association data show.
Thailand's currency has appreciated 1.1 percent this year to 32.54 a dollar in Bangkok Friday, more than the 0.5 percent for the Philippine peso, which ranks second in terms of gains this year in Southeast Asia. The Singapore dollar, Malaysia's ringgit and the Indonesian rupiah all fell.
ABN Amro and ANZ, who were the top forecasters in Bloomberg emerging-Asia rankings for the four quarters through March, see year-end rates for the baht of 34 and 34.5, respectively. That's more bearish than the median estimate of 33.7 in a Bloomberg survey of 28 analysts. The best forecasters were identified by averaging individual scores on margin of error, timing and directional accuracy during the past four quarters.
The Thai junta, led by former military leader Prime Minister Prayuth Chan-Ocha, has struggled to revive economic growth and boost domestic confidence since taking power. He has used martial law to ban protests and political gatherings, to search homes without warrants and to detain hundreds of people for as long as seven days without charge.
Political Landscape
While martial law was lifted in March, and a new constitution is being drafted ahead of elections planned for next year, Prayuth will retain all of the same powers under Article 44 of the interim charter.
The Bank of Thailand cut its 2015 economic growth estimate to 3.8 percent from 4 percent in March as exports contracted in nine of the past 14 months through February. Imports are also suffering a similar fate amid weak domestic demand. Don Nakornthab, the central bank's director for macroeconomic policy, told reporters in Bangkok Thursday that the projection for the economy may be revised even lower.
"We remain concerned on the political landscape," Roy Teo, a Singapore-based strategist at ABN Amro, said by e-mail on April 6. "The strong baht will push down headline inflation and impact exports. There is a risk for the Bank of Thailand to further ease monetary policy."
Stable Baht
Mizuho Bank Ltd. has more confidence in the military regime, predicting the caretaker government will speed up investment, while low oil prices should help boost consumer spending and reduce operating costs for businesses.
"The Thai baht would probably be relatively stable despite the weak exports and weak manufacturing," Vishnu Varathan, a Singapore-based economist at Mizuho, said by phone Wednesday. "We also think any potential to announce elections this year could also give an unexpected boost to the baht depending on the timing," he said, forecasting the currency will be little changed at 32.50 by year-end.
Thailand's consumer prices fell for a third straight month in March, dropping 0.57 percent from a year earlier. They declined for nine consecutive months in 2009. The next central bank rate meetings are April 29 and June 10.
The yield on Thailand's two-year government bonds, the most sensitive to interest rates, fell 35 basis points this year to a record 1.82 percent, data compiled by Bloomberg show.
"The biggest factor for the Bank of Thailand to cut rates again will come from the disappointment in the growth outlook," Lavanya Venkateswaran, a Singapore-based economist at Nomura Holdings, said by e-mail Thursday. "Persistent and deeper deflation is pushing real rates higher and further tightening monetary conditions."
Before it's here, it's on the Bloomberg Terminal.
LEARN MORE