Russian Oil Floods Export Market as Teapot Plants Lose Money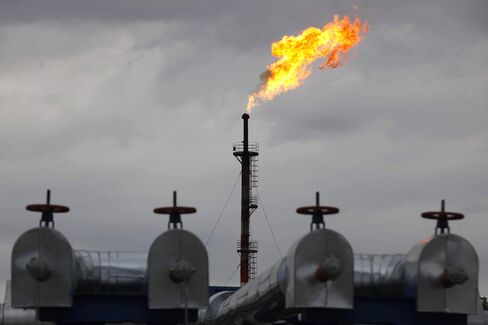 Crude oil exports from Russia, the world's biggest producer, grew about seven times faster than output in the first quarter as the country processed less fuel at home.
Shipments from the country increased 7.4 percent from a year earlier between January and March, the biggest gain in at least nine years and outstripping a 1.1 percent rise in production, according to Energy Ministry data. Domestic crude deliveries to refineries fell 1.9 percent as OAO Rosneft said simple plants, known as teapots, were not profitable to run after prices plunged last year.
"Simple refining is struggling in Russia, freeing up crude for export," Ehsan Ul-Haq, senior analyst at KBC Energy Economics in London, said by phone Wednesday. "Domestic demand is also very weak due to the economic situation. It takes time for low prices to impact crude output, so it may not be until the end of the year that Russian supplies start to slip."
Rising shipments from Russia are adding to the pressure on crude prices, already down about 50 percent from last year as global inventories swell. Members of OPEC, who pump about 40 percent of the world's oil, say they will not cut output unless other producers do the same. The U.S. is on track this year to produce the most oil since 1972.
Brent crude fell the most in two months on Wednesday as crude stockpiles in the U.S. made the biggest weekly gain in 14 years. The international benchmark added $1.48, or 2.7 percent, to $57.03 a barrel at 2:12 p.m. on the London-based ICE Futures Europe exchange. Its highest price last year was $115.71 on June 19.
Russian Economy
The oil price slump, combined with U.S. and European Union sanctions in response to Russia's role in the Ukraine conflict, has so far failed to reduce production, which grew to a post-Soviet record of 10.7 million barrels a day between January and March. The country's crude exports in the first quarter expanded to 5.29 million barrels a day, compared with 4.92 million a day a year earlier, Energy Ministry data show.
Russia is the world's biggest crude producer, ahead of Saudi Arabia and the U.S., according to the Riyadh-based Joint Organisations Data Initiative.
A weaker economic outlook will curb the country's oil-demand growth, according to the International Energy Agency. The Paris-based adviser on energy policy to 29 nations forecast last month that Russia would consume 3.44 million barrels a day of oil in 2015, a cut of 180,000 barrels a day since November.
The country's economy may shrink 3.5 to 4 percent this year, Bank of Russia Governor Elvira Nabiullina said April 7. Car sales plummeted 43 percent in March compared to a year earlier, according to the Association of European Businesses in Russia. Consumer confidence fell to the lowest level since 2009 in the first quarter, the Federal Statistics Service said by e-mail Wednesday.
OPEC Policy
Russian officials met with representatives of Venezuela, Saudi Arabia and Mexico in Vienna on Nov. 25 to discuss their response to slumping oil prices. The Organization of Petroleum Exporting Countries decided not to cut production at a meeting the following day because "some non-OPEC major producing countries said they were unable or unwilling to participate in production cuts," Saudi oil minister Ali al-Naimi said April 7 at a conference in Riyadh.
"Russia has no means to cut production, OPEC has no desire to," Eugen Weinberg, head of commodities research at Commerzbank AG in Frankfurt, said by phone on Wednesday. "Eventually the market may affect Russia's capacity to export, but we aren't there yet."
Before it's here, it's on the Bloomberg Terminal.
LEARN MORE