Roche's Arthritis Blockbuster Holds Promise for Diabetes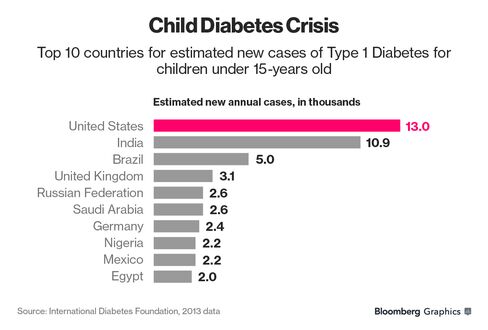 When the body attacks itself the consequences can be debilitating. Think arthritis.
Now researchers in Seattle are testing whether a blockbuster arthritis drug can take on an even more dangerous disease: diabetes, one of the world's biggest killers.
Roche Holding AG's Actemra generates $1.2 billion a year by calming the overzealous defense mechanisms of patients with rheumatoid arthritis. A clinical trial in the U.S. aims to see whether the antibody-based therapy can help people with type 1 diabetes stop their body from attacking insulin-making cells.
Behind the repurposing push is a drive to cut costs. Developing a new prescription medicine from scratch can take more than a decade and costs about $2.6 billion, according to the Tufts Center for the Study of Drug Development in Boston. Scouting for new therapies among already proven safe medications is also less risky and can speed up regulatory approval.
"We frequently look and see what drugs have been used in other autoimmune diseases because they have shared mechanisms," said Carla Greenbaum, the study's principal investigator and director of the diabetes program at the Benaroya Research Institute in Seattle. "A lot of these drugs that have been on the shelf and have been used, or not used, for various things are definitely going to be repurposed."
Until scientists find a way to prevent the body's own defenses from attacking cells that produce insulin, the only option for treating type 1 diabetes is to meet the body's needs with injected insulin. That's created a global market worth at least $22.6 billion a year, supplied mainly by Novo Nordisk A/S, Sanofi and Eli Lilly & Co.
Autoimmune disorders, a broad disease category that includes both type 1 diabetes and rheumatoid arthritis, are triggered by a glitch in the immune system. The body's defenses turn against joint tissue in arthritis, whereas they attack the pancreas's insulin-producing beta cells in diabetes. Actemra, whose generic name is tocilizumab, works by blocking the protein interleukin-6 involved in inflammation and the stimulation of immune cells.
Operation Reeducation
"We're trying to reeducate the immune system," Greenbaum said.
Other scientists concur that treatments that protect beta cells represent the next frontier in diabetes treatment.
"Insulin from the body's own beta cells is way better at controlling blood-glucose than injected insulin," said Tom Kay, director of the immunology and diabetes unit at the St. Vincent's Institute of Medical Research in Melbourne, who isn't involved in the Actemra study.
Roche is donating Actemra, the company's sixth-best-selling drug, for the trial, which got underway in February, though the company isn't involved in the research. The drug is also being investigated as a potential therapy for diseases ranging from schizophrenia to polymyositis, a chronic inflammation of the muscles.
Lymphoma to Arthritis
"We invest our resources in clinical trial programs for severe diseases where currently no treatment is available or, compared to the current standard of care, we may achieve an additional clinical benefit," said Claudia Schmitt a spokeswoman for the Basel, Switzerland-based drugmaker.
It's a drug development strategy that already has already met with some success. Roche's top-seller Rituxan, which targets errant immune cells, was originally a treatment for lymphoma. It's now also used in rheumatoid arthritis and was shown six years ago to temporarily protect insulin-function in diabetes.
The Food and Drug Administration and an independent risk panel will review the first 12 weeks of data from Greenbaum's study to weigh potential risks and benefits before opening the trial to children. Actemra is already approved for juvenile idiopathic arthritis in children as young as two years old.
Lifelong Disease
More than 29 million people in the U.S. have diabetes, the American Diabetes Association estimates. The disease, characterized by high blood-sugar levels sustained over a prolonged period, ranks eighth in the World Health Organization's leading causes of death.
About 5 percent of sufferers have the type 1 form that usually occurs from age 2 to 15 years. The more common type 2 tends to strike later. It's associated with a sedentary lifestyle and occurs when the body develops resistance to insulin and can't make more of the sugar-regulating hormone to compensate.
Life expectancy is trimmed by 11 years for a 20-year-old male in Scotland with type 1 diabetes, a study published in the Journal of the American Medical Association in January found. A woman will live 13 years less than for the rest of the population, the research found.
Finding new treatments is becoming more important as rates of type 1 diabetes increase worldwide. A study of more than 3 million children and adolescents in the U.S. last year found a prevalence of 1.93 cases per 1,000 youth in 2009, a 21 percent increase since 2001.
Important Remnants
Patients typically have only a small fraction of their original beta cells left by the time they're diagnosed after consulting for symptoms like excessive thirst, blurred vision and nausea, but "that remaining beta cell function is itself quite valuable," Kay said. It provides a backup for injected insulin that helps avoid large fluctuations in blood-sugar levels that can damage organs, including the eyes and kidneys.
If Actemra or another drug is shown to safely protect beta cells, the aim would be to treat people at risk of developing type 1 diabetes while they can still support their own insulin needs, Greenbaum said.
"The idea is that we could prevent or delay them having to take insulin," Greenbaum said.
Before it's here, it's on the Bloomberg Terminal.
LEARN MORE