Rate Bets Pushed Out as South African Blackouts Hurt Factories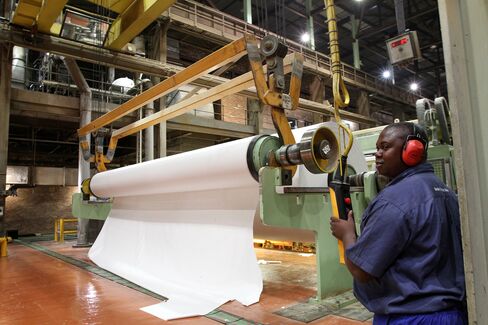 Rolling power blackouts in South Africa risk dragging manufacturing back into recession just as the industry recovers from strikes, complicating the central bank's job as it seeks to raise interest rates.
Investors have pushed out their expectations of the first rate increase, with forward-rate agreements used to speculate on borrowing costs pricing in a 25 basis-point adjustment in six months' time. At the end of March, they signaled an increase in July.
Manufacturing output, which makes up about 13 percent of the economy, contracted 0.5 percent in February from a year earlier as inadequate power generation capacity forced Eskom Holdings SOC Ltd. to cut supplies. While Governor Lesetja Kganyago has indicated the central bank's willingness to raise interest rates to curb inflation pressure, a weaker growth outlook may give policy makers reason to proceed more cautiously.
"The Reserve Bank is between a rock and a hard place," Busisiwe Radebe, an economist at Nedbank Group Ltd., said by phone from Johannesburg on Thursday. "The growth thing, I think, will convince them to actually keep these rates lower for longer."
Africa's most industrialized economy expanded 1.5 percent last year, the slowest pace since a 2009 recession, and will probably grow 2 percent this year, according to government estimates. Manufacturing expanded for the first time in four quarters in the three months through December, helping to boost gross domestic product by an annualized 4.1 percent.
Power Crunch
Eskom, the state-owned utility that supplies about 95 percent of the nation's power, is rationing electricity supply because its aging plants can't meet demand. Dawie Roodt, chief economist of Efficient Group Ltd. in Pretoria, estimates the electricity crunch since 2007 has cost the economy more than 300 billion rand ($25 billion) in lost output.
While the central bank kept its benchmark repurchase rate unchanged at 5.75 percent on March 26, Kganyago warned of higher borrowing costs as oil prices gained 22 percent since Jan. 13, paring its decline since June.
The bank raised its inflation forecast for this year to an average of 4.8 percent from 3.8 percent. Consumer prices rose 3.9 percent in February, remaining inside the bank's 3 percent to 6 percent target band.
Bond Yields
"The weak economy will take precedence over inflation in the Reserve Bank's considerations," Abri du Plessis, an economist at Gryphon Asset Management, said by phone from Cape Town on Thursday. "I can't see that we will have interest rate increases this year."
Slower growth and subdued inflation have boosted the outlook for bonds. Yields on government rand bonds due December 2026 dropped 26 basis points this year to 7.71 percent.
The rand has gained 1.2 percent against the dollar since March 30, when investors began moderating rate bets. The currency fell 0.3 percent against the dollar to 11.9756 as of 5:18 p.m. in Johannesburg on Friday, taking its decline in the past six months to 7.7 percent.
"Weak growth has driven the Reserve Bank into a corner," Bart Stemmet, an economist at NKC Independent Economists, based in Paarl, near Cape Town, said by phone. "They will try to keep rates low as long as possible."
Before it's here, it's on the Bloomberg Terminal.
LEARN MORE