Kandi to Start Retail Sales of Electric Cars in China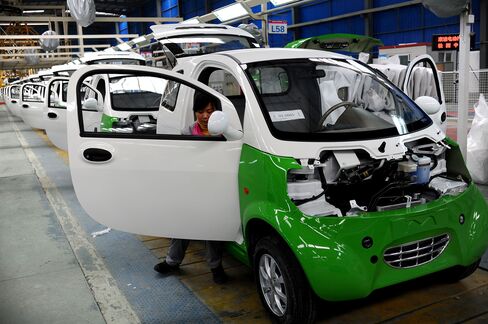 Kandi Technologies Group Inc. plans to tap rising demand for electric vehicles in China by starting sales to individual buyers and expanding the number of cities where the automaker rents out its vehicles by the hour.
Kandi is selecting dealers in 26 Chinese provinces and will begin selling its new five-seater K17 electric car in June, followed by a two-seater called the K12 about two months later, Chairman Hu Xiaoming said in a telephone interview today.
"By offering retail business, we can grab more market share and enhance our brand awareness," said Hu, whose company is based in Jinhua, about 330 kilometers (200 miles) southwest of Shanghai. "Electric cars are a natural complement to gasoline-run autos, especially with pollution and traffic jams choking cities."
Automakers in China are adding electric cars to their lineups after the government extended incentives to promote their usage as a way to cut tailpipe emissions and reduce the country's dependence on imported oil. Total production of EVs surged fourfold in the first quarter from a year earlier, according to the Ministry of Industry and Information Technology.
Kandi, together with joint venture partner Geely Automobile Holdings Ltd., equipped the K17 and K12 models with sensors that can detect vehicles within 1.5 meters and automatically slow down the car to avoid collisions, said Hu.
The automaker expects to deliver about 10,000 units of the two new models to individual buyers this year, said Hu. It also aims to expand its car-rental network to about 15 cities in China this year, from the eight currently, and boost the number of cars for hire to about 25,000 units from about 15,000, he said.
The company also plans to sell shares of a unit in which it holds 50 percent on the over-the-counter market in China this year, Hu said.
Kandi's stock has declined 8.8 percent this year in Nasdaq trading, compared with the 4.5 percent gain in the Nasdaq Composite Index.
— With assistance by Tian Ying
Before it's here, it's on the Bloomberg Terminal.
LEARN MORE