Jailed Chilean Billionaires' Fortune Has Roots in Pinochet Days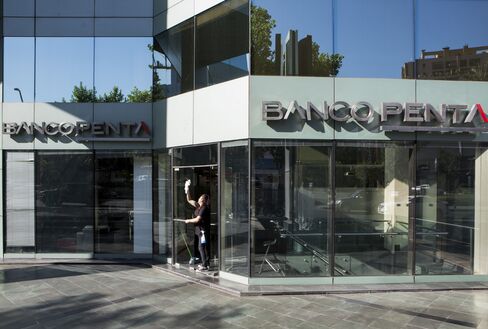 A corruption investigation involving two Chilean tycoons has put a spotlight on the fortune they started amassing during the military dictatorship of Augusto Pinochet.
Unlike many billionaires who live inside walled-in mansions, Carlos Alberto Delano and Carlos Eugenio Lavin reside in a gated community of a different type: a jail in Santiago.
A judge last month ordered preventative prison for the moguls on charges of bribery and tax crimes. Prosecutors said they discovered bribes that the Penta group, founded by Delano and Lavin, paid to a deputy minister, as well as fake invoices and forwards contracts used to disguise a tax evasion scheme.
A spokeswoman for the Penta group referred questions on the investigation to Julian Lopez, a lawyer representing Delano and Lavin. Lopez said in an e-mail that the partners haven't committed any crimes, and that while they recognize the existence of "irregularities and bad practices" in their conglomerate, their "tax infractions do not constitute crimes."
Delano and Lavin have cooperated with authorities and jailing them is unnecessary because there's no risk they'll flee, Lopez said. Prosecutors charged nine people in the Penta investigation, four of whom are in jail.
Lopez said his clients paid all the taxes in question in addition to interest and fines, and that owning Penta doesn't make them responsible for any alleged wrongdoing that may have taken place at the company.
Hidden Billionaires
Chile's financial regulator said in a report to lawmakers in January that it's supervising Penta's finances pending the trial of Delano, 66, and Lavin, 72. After working at conglomerate Cruzat-Larrain in the 1970s, Delano and Lavin began building their fortune by making acquisitions in Chile's financial and health sectors spurred by the privatizations during Pinochet's dictatorship from 1973 to 1990. Their first major purchase was a newly privatized insurer.
"They're sitting on a lot of cash and real estate," said Patricio Navia, assistant professor at New York University's Center for Latin American and Caribbean Studies. "They started out working at one of the most important conglomerates in Chile. Then they started creating one of their own."
In 1988, they bought a stake in a publicly traded pension fund that the Pinochet regime created called AFP Cuprum. After accumulating a controlling stake, they cashed out 24 years later in a $1.5 billion transaction.
Today, Delano and Lavin each have a net worth of $1.2 billion, according to the Bloomberg Billionaires Index. Neither has ever appeared on an international wealth ranking.
Insurance, Plastics
They own Banco Penta, Chile's 13th-largest lender by assets, insurance companies, an asset manager, brokerage and factoring firms. The Penta holding company also has interests in soldering, fruit exports, production of glass and plastics, and real estate. Delano separately has a stake in an iron mine.
While most of the businesses are closely held, they also have a $400 million stake in publicly traded health-care company Banmedica that they control with Eduardo Fernandez Leon, a stock market investor who oversees a family fortune valued at $1.3 billion. Prosecutors haven't accused Leon of any wrongdoing. He declined to comment.
Banmedica said in an April 1 statement the company's manager Carlos Kubick resigned over "improper" payment methods of which the board was unaware. It said it paid all the tax contingencies arising from the payment methods and that Kubick is responsible for any losses caused. The company didn't immediately respond to a request for comment. Attempts to reach Kubick through a family member were unsuccessful.
Jobs Machine
Delano said in televised comments outside the courtroom on March 5 that Penta is a "machine for creating jobs and contributing to Chile's progress."
Prosecutor Carlos Gajardo has called the business a "tax fraud machine."
"Everyone from the highest executive to the lowliest worker falsified invoices," Gajardo said in a televised hearing March 4. "It's a culture of evasion."
Deputy mining minister Pablo Wagner denies committing any bribery or money laundering crimes, and is challenging some of the tax infraction allegations from prosecutors, his lawyer Gonzalo Medina said in an e-mail, without giving further details.
Delano and Lavin studied at Chile's Catholic University when its economics department was dominated by laissez-faire thinkers, some of whom studied with Milton Friedman at the University of Chicago following an exchange between the schools. The schools' free market thinking was adopted by coup-installed Pinochet as he sought a way out of hyperinflation.
Pinochet Roots
Lavin told prosecutors in January he was "raised in the cradle of the Chicago Boys." Delano worked for the "Yes" campaign, which backed Pinochet to extend his rule in a 1988 referendum. Since the transition to democracy, the pair has financed candidates for the Independent Democratic Union, or UDI, founded by Jaime Guzman, a Pinochet adviser who helped draft the dictatorship's constitution.
Delano and Lavin first teamed in 1980 to buy a stake in government insurer Consorcio Nacional de Seguros, according to a January report on the Penta group by Chile's financial regulator. After the state sold the firm to Banker's Trust in 1986, the partners invested some of the proceeds in another insurer and the pension fund AFP Cuprum.
In 1988, they acquired control of Instituto de Seguros del Estado when it was privatized. By 1992 they had taken control of AFP Cuprum, the report said. They sold their Cuprum stake to Principal Financial Group for almost $1 billion in 2012.
'Comfortable Beginnings'
"Lavin and Delano came from comfortable beginnings, but weren't born into fortune," said Maria Olivia Monckeberg, an author who's tracked Pinochet's privatizations. "Any money their parents had has no comparison to the fortune that they made in a generation."
The duo have partnered with some of Chile's wealthiest investors and most powerful politicians. They joined ex-President Sebastian Pinera and billionaire Alvaro Saieh in Clinica los Condes, a Johns Hopkins University-affiliated clinic, and invested in Universidad de Desarrollo with former presidential candidate and Santiago mayor Joaquin Lavin.
Their business thrived following military regime reforms even though Lavin and Delano weren't specifically favored, said Rolf Luders, ex-minister of finance during Pinochet's rule. Their support for UDI indicates they supported a free-market democracy in which the government plays a subsidiary role, he said.
Charitable Work
"I have met on occasion both of them and consider them definitely committed and able businessmen," Luders, who's now a professor at the Catholic University, said in an e-mail. "They were and probably still are, much interested in helping to promote a free society and in helping the disadvantaged."
Delano resigned as chairman of the Teleton charity drive in September because of the investigation. He handed the presidency of Empresas Penta to ex-foreign minister Alfredo Moreno in December.
A pause in charitable work is the least of their worries. According to Chile's association of mutual funds, assets managed by Penta dropped 38 percent since August to $234 million. Deposits at Banco Penta fell 17 percent to $1.1 billion from August to January, according to the bank regulator.
Banco Penta's 2018 bonds, which slid to a record-low 97 percent of face value after the prosecutor's office announced charges Jan. 8., rebounded when shareholders said in a filing they injected $112 million and planned to add another $160 million.
Chile's financial regulator said in a March 8 statement that the bank has a "healthy financial position." The bank's capital requirement ratio is almost double the Chilean standard.
Penta is considering the sale of its bank and insurer Penta Security and Delano is weighing a sale of his stake in the Dominga mine, the daily La Tercera reported yesterday, without saying where it obtained the information. A Penta spokeswoman declined to comment on the report.
"The market's leery, watching closely where this investigation heads," said Emiliano Urrutia, a fixed income manager at Tanner Servicios Financieros in Santiago.
Before it's here, it's on the Bloomberg Terminal.
LEARN MORE