Iranian Supreme Leader Refrains From Endorsing Nuclear Deal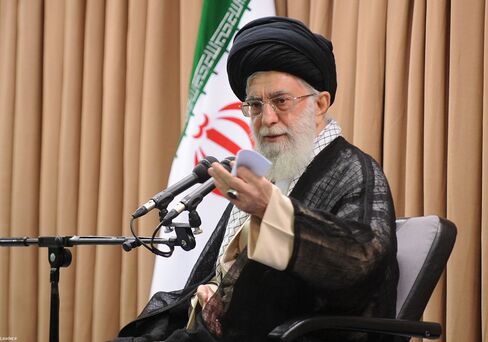 Iranian Supreme Leader Ayatollah Ali Khamenei refrained from endorsing a framework nuclear deal agreed with world powers and said all sanctions must be lifted once a final accord is reached.
In his first public comments addressing the April 2 pact that was outlined in Lausanne, Switzerland, Khamenei said on Thursday he was "neither for it, nor against it." Envoys from the U.S., U.K., France, Russia, China, Germany and Iran have given themselves until June 30 to reach a permanent deal.
His insistence on an immediate end to sanctions clashes with U.S. demands to link the relief to Iran's implementation of a final accord. Earlier, President Hassan Rouhani said Iran "will not sign a deal unless on the very first day of its implementation all economic sanctions" are removed, driving oil prices higher.
"This is a public relations duel at this point," said Cliff Kupchan, chairman of New York-based Eurasia Group, which monitors political risk. "The U.S. has taken strong positions on unresolved issues and Khamenei, naturally as a good bargainer, pushed back with strong positions of his own."
U.S. and European Union sanctions restrict Iran's oil exports and isolate its banks from the global financial system. Those imposed by the United Nations bar trade in proliferation-sensitive technology and military equipment.
"If the lifting of sanctions is linked to a new process, the basis of the negotiations is pointless because the point of the talks is to remove the sanctions," said Khamenei, who is Iran's highest authority.
Oil Price
West Texas Intermediate for May delivery rose $1.02, or 2 percent, to $51.44 a barrel at 9:05 a.m. on the New York Mercantile Exchange. Brent for May settlement climbed as much as $1.85, or 3.3 percent, to $57.40 a barrel on the London-based ICE Futures Europe exchange.
The supreme leader has publicly backed Iran's negotiators while seeking not to alienate hardliners who oppose the talks. He has previously said that Iran will only be bound by the obligations contained in any final agreement.
"I was never optimistic when it comes to negotiations with the U.S.," he said Thursday. "Even then, I agreed to these negotiations and have backed the negotiators and will continue to do so."
Iran's top military officials came out in favor of the framework accord this week. Mohammad Ali Jafari, the commander of the Revolutionary Guards thanked the negotiators for their "diplomatic battle." The armed forces' chief of staff, Hassan Firouzabadi, congratulated Khamenei for the negotiators' success, in an open backing for Rouhani against hardline opponents who have criticized the deal.
'Big Picture'
"We have to remember that there's a tremendous popular and elite demand for a deal," Kupchan said by phone. "Khamenei has instructed his establishment to endorse the idea of a deal so it's much more difficult now than it was two weeks ago for the leader to walk away from a deal. We have to keep the big picture in mind."
The group of world powers is seeking to limit Iran's nuclear program -- placing it at least a year from being able to develop an atomic weapon -- in return for the removal of punishing economic restrictions. Iran says its program has purely peaceful goals.
The U.S. "will insist upon" sanctions relief being tied to Iran meeting its commitments under an accord, White House Press Secretary Josh Earnest said on Monday. U.S. Secretary of State John Kerry has predicted that Iran would need four months to a year just to complete the steps required under the agreement before any sanctions relief, which he said would be provided "in phases."
Rouhani, in a speech aired on state television, said Iran wasn't seeking to "to defeat anyone, we want the restoration of our rights." He said: "We are living in a world where win-lose agreements don't last, negotiations have to be win-win."
Before it's here, it's on the Bloomberg Terminal.
LEARN MORE