Immelt Speeds GE Industrial Vision With Sale of Real Estate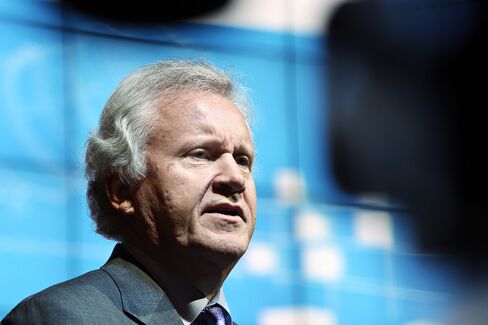 Jeffrey Immelt is poised to take his most sweeping step yet in the years-long effort to pare General Electric Co.'s troublesome ties to financial services.
GE is near an accord to sell a real estate portfolio with assets of about $30 billion, said a person with knowledge of the matter. A deal with Blackstone Group LP and Wells Fargo & Co. for some or all of the holdings could be announced as soon as Friday, the person said.
Unloading the real estate would further Immelt's goal of shrinking the GE Capital unit that imperiled GE in the 2008-09 financial crisis. Based on historical leverage ratios and typical terms, disposing of all the assets could reap $4.5 billion to $4.75 billion in cash, said Nicholas Heymann, a William Blair & Co. analyst.
"It's notably significant because it's probably one of the first clean-sweep moves to exit a portion of GE Capital," said Heymann, who rates GE as market perform. "It's not a gradual, incremental approach; it's a substantive approach."
While GE, Wells Fargo and Blackstone declined to comment, GE set an investor meeting for 8:30 a.m. New York time Friday "to give an update on GE Capital." The real estate business exceeds 4,400 properties, according to GE's website.
Faster Pullback
Immelt, 59, already has unloaded smaller bank stakes and is poised to spin off the North American consumer lending business this year. Still, shareholders are urging a faster GE Capital pullback so GE can focus on industrial products such as gas turbines and jet engines. GE has said it will keep GE Capital businesses that support other operations, which could include aircraft and railcar leasing.
GE rose 2.9 percent, the most since October 2013, to $25.73 at the close in New York following news of the deal. That pushed the stock to a 1.8 percent gain for this year, topping the 1.6 percent advance for the Standard & Poor's 500 Index.
"Mr. Immelt is moving rapidly now to downsize GE Capital," said Jack De Gan, chief investment officer of Harbor Advisory Corp., which owns about $2.5 million in GE shares. "It should have been done a long time ago, but the pace at which he's moving is really picking up. It appears that he's realized that investors want this transition to get over more quickly than his original plan."
Balance Sheet
Immelt told analysts in December that GE's ending net investment in the finance arm -- a balance-sheet gauge that excludes non-interest-bearing liabilities and cash -- could drop to less than $300 billion once the company cuts ties to its North American consumer credit business. The total fell to $363 billion as of Dec. 31 from $556 billion in 2008.
"We have a strategy of exiting those businesses that are deemed to be non-strategic or that are underperforming," GE said in a February regulatory filing. "We have completed a number of dispositions in our businesses in the past and will continue to evaluate options going forward."
In 2007, GE Capital had more than 40 percent of the parent company's sales. By last year, that share had dwindled to 29 percent of the $148.6 billion in revenue following asset sales and growth in GE's manufacturing arm.
GE held an initial public offering for the North American consumer business, now known as Synchrony Financial, in 2014 and plans to spin off the rest to shareholders this year. Other disposals spanned foreign-bank stakes to real estate, including several floors of New York's 30 Rockefeller Plaza building, where GE has offices.
Not all of Immelt's GE Capital moves have involved retrenching. In October, the finance unit acquired helicopter lessor Milestone Aviation Group LLC for $1.8 billion, complementing the GE Capital Aviation Services business that handles airliners.
"What I'd like to see GE Capital represent is simply a financing tool for the products that GE sells," Harbor Advisory's De Gan said. "The sooner they get rid of these nonstrategic financial assets, the sooner investors are going to consider this more of an industrial stock than a financial and start to give it the valuation it ought to have."
Before it's here, it's on the Bloomberg Terminal.
LEARN MORE