Fed-ECB Policy Gap Become Canyon for Euro, Deutsche Bank Says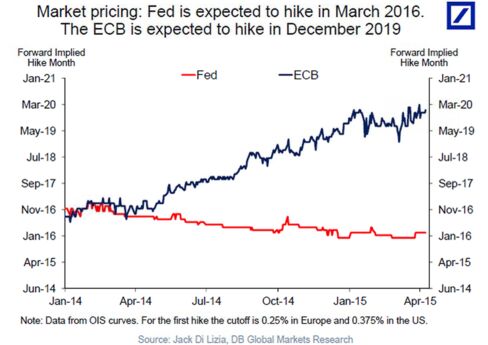 Financial markets are signaling the Federal Reserve will raise interest rates about four years before the European Central Bank, magnifying weakness in the euro, according to Deutsche Bank AG.
About a year ago, money-market derivatives projected monetary tightening in America and the euro area both taking place sometime in 2016.
"The policy divide we are seeing between what the Fed and the ECB will do is the biggest difference ever," said Torsten Slok, chief international economist at Deutsche Bank in New York. "This has a list of investment implications, the exchange rate being the main thing."
Deutsche Bank projects the euro will weaken to parity with the dollar by the end of this year and reach 90 cents in 2016. The shared currency fell 0.6 percent to $1.0662 Thursday in New York.
While hurting the euro, the policy divergence may support other assets.
Divided Benefits
"All the benefits the U.S. saw from quantitative easing from higher stock prices to home prices -- given the wealth effect -- will also play out in Europe," Slok said.
The Fed will lift its virtually zero target rate range for overnight loans between banks during the final quarter of 2015, according to Bloomberg analysis of fed funds futures contracts. The ECB, whose main refinancing rate is at a record-low 0.05 percent, won't tighten policy until about December 2019, according to Deutsche Bank's calculation of forward overnight index swaps.
Fed policy makers last month were split over whether they would raise interest rates in June, a debate that occurred before recent disappointing payroll figures, minutes of their March 17-18 policy meeting showed on Wednesday.
Faced with the risk of deflation, the ECB began last month a quantitative easing program that envisages asset purchases of 1.1 trillion ($1.2 trillion) euros through September 2016. Since its announcement in January, QE has pushed down yields on government bonds, even as tense negotiations between Greece and its creditors threatened the stability of the single currency.
Before it's here, it's on the Bloomberg Terminal.
LEARN MORE