Don't Spoof $12.6 Trillion Treasury Market, Fed Group Says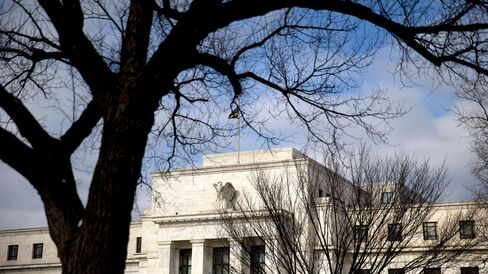 Wall Street executives have a recommendation for U.S. Treasury traders: Don't manipulate the $12.6 trillion market.
The Treasury Market Practices Group, an advisory committee backed by the Federal Reserve Bank of New York, is recommending investors, brokerages and markets ensure they're actively working to prevent manipulative strategies in U.S. Treasuries such as spoofing, according to a new paper. The group updated its guidelines with several references to upholding market integrity and included new language aimed at the computerized markets where Treasuries are increasingly bought and sold.
"Automated trading systems can provide rogue traders with a faster set of tools for creating false impressions of market depth, trading volume, and prices," according to the committee.
The comments come amid a regulatory push to prevent cheating in financial markets, including the illegal bait-and-switch tactic known as spoofing -- which involves submitting orders with no intention of filling them, with the goal of swaying prices in a direction favorable to your strategy.
Executives from three of the biggest market-making firms in U.S. Treasuries, who asked not to be identified, last year told Bloomberg that spoofing needs to be investigated in that market. They said a lack of cohesive regulation and technology to monitor high-frequency traders is making the world's biggest government bond market more dangerous for everyone, adding that it's unclear who really regulates trading of U.S. government debt.
Dodd-Frank
The 2010 Dodd-Frank Act outlawed spoofing.
Regulators have authority in a hodge-podge fashion in the Treasury market that touches parts of trading, but not the whole. The Treasury Department has the authority to write rules, but not enforce them. That responsibility falls to the Securities and Exchange Commission if U.S. authorities are alerted to strange trading behavior. The New York Fed monitors the market in relation to its decisions on monetary and fiscal stability policy.
The TMPG was formed to set best practices for institutions in the Treasury market. Its members include executives from Morgan Stanley, Goldman Sachs Group Inc., JPMorgan Chase & Co., Citadel LLC, BlackRock Inc. and ICAP Plc. The group's new paper is now open for public comment. A final version of the guidelines will be released subsequently.
The TMPG added language to its existing best practices. For example, to a section on "Promoting Liquidity and Transparency" that says market users "should avoid trading strategies that hinder market clearance," it added the phrase "or compromise market integrity." To a list of trading practices to avoid, it added "those that give a false impression of market price, depth, or liquidity."
Feigning Interest
Spoofers try to make money by feigning interest in buying or selling at a certain price, creating the illusion of demand in an attempt to get other traders to move the market. The spoofer cancels the original trade and buys or sells at the new price to try to make money. It's sometimes called "pull and hit."
A new section among the TMPG proposals calls for trading venues to have the "authority to monitor quoting and trading behavior and take responsive action."
The proposal also recommends stronger vetting for algorithms and trading strategies, as well as more scrutiny of how strategies can affect markets.
October Surprise
Public scrutiny of Treasury trading has intensified since Oct. 15, when a sudden surge in bond prices drove the biggest drop in yields for 10-year notes since 2009. While there's no evidence the move was driven by manipulation, the event raised concern about investors' ability to trade Treasuries in times of financial stress, as tougher capital requirements prompt primary dealers to step back from the market.
On Wednesday, JPMorgan Chairman and Chief Executive Officer Jamie Dimon said Oct. 15 was a "warning shot" to investors and that the next financial crisis could be exacerbated by a shortage of Treasury securities.
Last year, 48 percent of U.S. Treasury trading happened electronically, according to a survey from Greenwich Associates, up from 33 percent a decade ago. Electronic trading of Treasuries by institutions is dominated by ESpeed, the market owned by New York-based Nasdaq OMX Group Inc., and BrokerTec, owned by London-based ICAP. Guy Taylor, a spokesman at ICAP, and Nasdaq's Joe Christinat declined to comment on the TMPG paper.
"Certainly, on Oct. 15 we could see the impact of high-frequency trading on liquidity," said Priya Misra, head of U.S. rates strategy at Bank of America Merrill Lynch in New York. And even now, "there are days where I can't explain why the market is moving around a lot."
Regulation of U.S. Treasury trading, often described as the largest and most liquid securities market in the world, only came about in 1986 when Congress passed the Government Securities Act. It was last revisited in 1998.
Before it's here, it's on the Bloomberg Terminal.
LEARN MORE