Cameron Vows to Freeze Rail Fares as Vote Deadlock Persists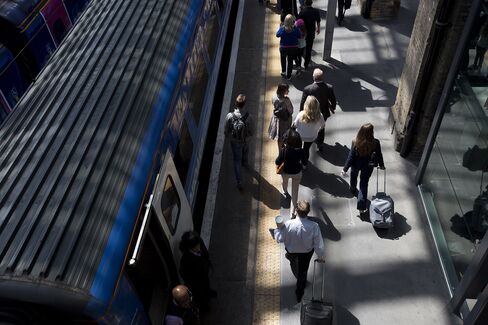 David Cameron promised a real-terms freeze in rail fares for U.K. commuters if he's re-elected next month, part of an effort to win over voters unconvinced that his Conservative Party is on their side.
Regulated fares on Britain's trains, including season tickets, day singles and returns, would be allowed to rise only in line with the Retail Prices Index for the full five years of the next Parliament. The Tory mayor of London, Boris Johnson, said fares on the city's transport system will also rise in line with inflation this year.
"The cost of commuting is one of the biggest household bills that hard-working families face and it is something we are determined to bear down on," Cameron said in an e-mailed statement. "It shouldn't just be taken for granted that people across the country who get up early and come home late spend a large amount of the money they earn traveling."
After five years in office, Cameron is struggling to convince voters he deserves a second term. Polls have put the Conservatives and Labour neck-and-neck in recent weeks. Three published on Thursday and one on Friday had Labour ahead, in one case by as much as six percentage points, while ComRes and YouGov polls placed the Tories ahead by 1 percentage point. Pollsters warned people not to draw too many conclusions from the surveys.
'All Noise'
"Until you see some more consistent data or bigger leads, it's all noise," Ben Page, the chief executive officer of polling company Ipsos Mori, told a briefing in London.
Labour leader Ed Miliband seized the agenda Wednesday with an announcement that he would end a 200-year-old tax break for the overseas earnings of people who designate themselves "non-domiciled" in the U.K. The Tories responded Thursday by questioning Miliband's integrity and suggesting he might be prepared to give up Britain's nuclear weapons in order to get Scottish National Party support for his government.
"Desperation is becoming the hallmark of David Cameron and this Tory campaign -- this week we have seen them defending tax avoiders and descending to personal abuse," Miliband said in a speech in Edinburgh. "Today, in further signs of panic, they are announcing billions of pounds of unfunded and unbelievable promises. They can't explain where the money comes from."
In a separate announcement, Cameron proposed allowing staff of companies employing more than 250 people to have three paid days off each year to do volunteering work.
The latest poll, by Populus, found Labour in the lead with the support of 33 percent of voters, the Conservatives at 31 percent and the U.K. Independence Party 16 percent. Populus questioned 2,020 voters Wednesday and Thursday. It didn't specify a margin of error.
Before it's here, it's on the Bloomberg Terminal.
LEARN MORE