Bombardier Ousts Two Leaders as Russia CSeries Deal in Doubt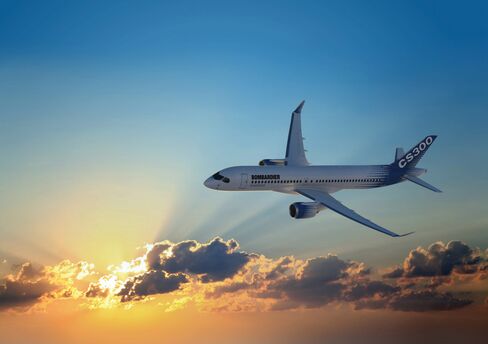 Bombardier Inc. Chief Executive Officer Alain Bellemare is replacing two senior leaders as part of his turnaround effort amid new doubts about one of the largest orders for the company's troubled CSeries jetliner.
Fred Cromer, a former executive at jet lessor International Lease Finance Corp., becomes president of Bombardier Commercial Aircraft effective immediately as Mike Arcamone departs, the company said Thursday. Chief Financial Officer Pierre Alary, 57, will retire but stay on the job until his replacement is hired.
The moves will let Bellemare put his stamp on Montreal-based Bombardier after he succeeded Pierre Beaudoin in February. Repeated delays have pushed the CSeries' commercial debut to 2016, after an initial target of 2013, and ballooned the development cost of Bombardier's largest-ever plane to $5.4 billion, at least $2 billion over budget.
"Mr. Cromer has a great ILFC and airline background," David Tyerman, a Canaccord Genuity analyst, said by telephone from Toronto. "The only question I have is, does he have any manufacturing expertise? Bombardier isn't making money on regional jets and turboprops."
Bombardier announced the personnel shift hours after saying it was confident it can resolve any financing issues from a Russian customer that's re-evaluating an order for 39 CS300 planes.
'Firm Agreement'
There is a "firm agreement" for Ilyushin Finance Co. to buy the jets "and as such we are confident we can work together to overcome any concerns," Marianella de la Barrera, a spokeswoman for Montreal-based Bombardier, said in an e-mail.
Ilyushin, among the top customers for the CSeries planes, is reconsidering its purchase and will make a decision by the Paris air show in June, the company's general director told London-based aviation journal Flightglobal.
Bombardier's Class B shares were unchanged at C$2.60 at the close in Toronto. The stock's 37 percent decline this year is the most among major Canadian industrial companies, according to data compiled by Bloomberg.
The commercial aircraft unit probably will post a loss of $200 million before financing expense, financing income and income taxes this year, according to the company's forecast, while its other two aerospace businesses show a profit. The chief salesman, Ray Jones, left in January, becoming the second aerospace sales executive to exit in about a year.
Laggard Unit
"Bombardier Commercial Aircraft hasn't been performing," said Tyerman, who has a buy rating on the stock. "The company won't be able to achieve its potential if it doesn't do better in that area. Rightly or wrongly, Mr. Arcamone wears that. The CSeries also had delays on his watch."
Arcamone, 56, joined Bombardier in 2012, from General Motors Co. after a 30-year career in the auto industry. Cromer's experience at ILFC means he was associated with one of the best-known brands in the aircraft-leasing business. Founded by so-called industry godfather Steven Udvar-Hazy, the company was sold to American International Group Inc. in 1990 and then sold to AerCap Holdings NV last year.
Cromer, 50, served as president, senior vice president of finance and CFO at ILFC. He also worked as an executive at U.S. regional airline ExpressJet and at Northwest Airlines.
Bombardier also hired Plane View Partners and its chairman, Henri Courpron, as strategic advisers. Courpron, 52, is a former CEO of ILFC who spent 20 years as an Airbus executive.
Consultant's Hiring
Plane View's mandate "consists of conducting an extensive review of Bombardier Commercial Aircraft's operations, with the objective of improving its overall performance," according to a company statement.
Ilyushin Finance's questions about its CSeries purchase add to Bombardier's struggles to find buyers for a plane the company hopes will be a challenger to the smallest single-aisle offerings from Boeing Co. and Airbus Group NV. Bombardier is short of its order target and has yet to name a so-called launch operator after its original customer, Sweden's Braathens Aviation AB, backed out last year.
Ilyushin Finance is growing impatient with a number of delays that have pushed back delivery, spokesman Andrey Lipovetsky said, confirming General Director Alexander Rubtsov's comments.
The cost of the deal has risen, Lipovetsky said, citing limited access to capital markets after the U.S., Canada and the European Union imposed sanctions to force Russia to drop support for separatists in Ukraine. The Canadian government has barred Russian companies from taking advantage of cheap export-bank financing.
Ilyushin Finance may cut the number of airplanes ordered or swap some for other types of planes, Lipovetsky said.
Bombardier is working to complete CSeries flight tests this year, with its 243 firm orders still short of a target of 300 by the time the plane is in service.
Other CSeries customers include Republic Airways Holdings Inc. and Macquarie AirFinance, both with firm orders for 40 planes. Republic said last year it's considering whether to take the planes after a change in its airline strategy.
Before it's here, it's on the Bloomberg Terminal.
LEARN MORE