Yanzhou to Youku Surge as Chinese Stocks Rally to Record in U.S.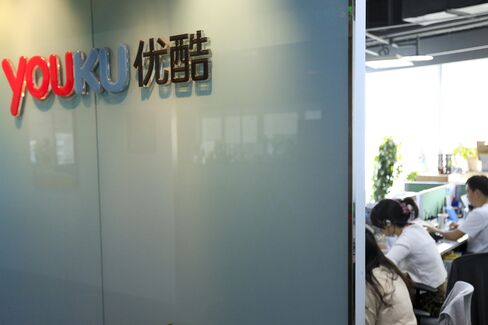 Chinese equities jumped to a record in U.S. trading as Yanzhou Coal Mining Co. rallied after the government moved to reduce coal-generated electricity prices and Hong Kong shares surged on speculation policy makers will boost stimulus.
Yanzhou, China's fourth-largest coal producer, increased 23 percent to $11.86 in New York. The American depositary receipts traded at a 1 percent premium over the Hong Kong shares, which jumped 29 percent. The stock advanced as China said it will cut prices for electricity generated by coal-fired plants. The Bloomberg China-US Equity Index jumped 4.9 percent to 125.36, the highest level on record.
The rally in U.S.-traded Chinese companies followed the steepest gain in three years in the Hang Seng China Enterprises Index. Purchases of Hong Kong shares through the city's mainland exchange link filled the daily quota for the first time Wednesday. Speculation that China will take further monetary easing after two cuts to interest rates since November has driven the Shanghai Composite Index to a seven-year high.
"There is a strong push by the government to ease policy, both in terms of monetary policy as well as policy towards housing," Gabriel Wallach, founder of North Grove Capital LLC in Boston, said by phone Wednesday. "So equities in general have been acting very well in China ahead of the easing."
Youku Tudou Inc., a video website owner, rose the most in three years rallying 15 percent to $15.93. Tarena International Inc., an educational company, surged 22 percent to $11.49.
Wowo Ltd., a Beijing-based e-commerce platform operator, climbed 2.9 percent to $10.29 in its U.S. debut. The company sold ADRs at $10 apiece, raising $40 million in its initial public offering.
Before it's here, it's on the Bloomberg Terminal.
LEARN MORE