Where you grow up is a big determinant of where you're headed in life, at least when it comes to Americans' chances of climbing from the bottom of the income ladder to the top.
Moving to a Census tract with a low poverty rate at a young age increases adulthood earnings by 30 percent, according to a re-analysis of data from Moving to Opportunity, a study started in the 1990's in which 4,600 low-income families had a chance to move from public housing to private housing in less-distressed neighborhoods. Harvard economists Raj Chetty, Nathaniel Hendren and Larry Katz completed the research, which has yet to be released. Chetty presented the findings at a Federal Reserve conference last week.
"We think there are really large causal effects of local communities on children's long-term success," Chetty said during his presentation.
In a separate forthcoming study, Chetty and Hendren find that children who moved to an area with high upward mobility at a young age had increased earnings as adults. When siblings moved to a higher-mobility area, the child who was younger at the time of the move ultimately did better as an adult. That suggests that your ability to climb isn't just an inherent, in-born trait but a function of your surroundings -- and it matters how long you're exposed to that environment.
This new research builds on two 2014 studies, which you can read here. In one, the researchers followed the earnings of a core sample of children born between 1980 and 1982. They found huge geographic variations in upward economic movement, as you can see in the map below. Lighter-shaded areas have better mobility.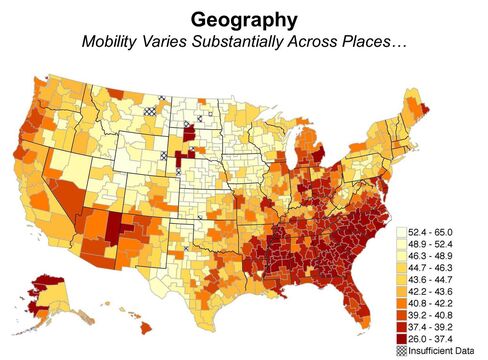 Figuring out why economic mobility varies so greatly and what causes mobility to increase or decrease is important. It might give economists and policy makers clues to how to give kids a better chance at climbing the economic ladder. Chetty and his colleagues found last year that economic mobility in the U.S. hasn't moved much for decades, stuck at a low level compared with many developed economies.
There's a 7.5 percent chance someone born into the bottom fifth of America's income distribution gets to the top fifth, Chetty said during his presentation. A kid born in Canada has a 13.5 percent chance.
"Your chances of achieving the American dream are almost two times higher if you're growing up in Canada," Chetty said.
For more on the global economy, check out Benchmark:
Before it's here, it's on the Bloomberg Terminal.
LEARN MORE