Thailand's Second Rice Harvest Seen Dropping to 15-Year Low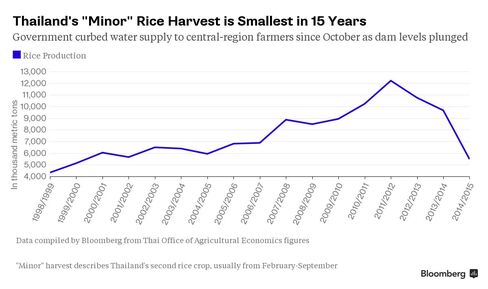 Rice production from Thailand's second crop will drop 43 percent to the lowest level in 15 years on lack of rainfall, cutting the annual harvest in the world's biggest exporter, according to the Office of Agricultural Economics.
Farmers are set to gather 5.51 million metric tons of rough rice from the harvest now compared with 6.7 million tons seen in December and 9.67 million tons a year earlier, the government forecaster said. That will lower output in the 12 months through September to 32.62 million tons, the smallest since 2009-2010, data compiled by Bloomberg show.
The military junta cut water for the minor crop to preserve supplies for the main harvest which is planted from May. Water levels in reservoirs fell to the lowest in 15 years, the government says. Thailand will ship more this year than any country ever as the junta sells record reserves accumulated by the previous administration, U.S. government data show. That's pushed Asian benchmark prices to the lowest in nine months.
"Farmers planted less after the government shut sluices because deficient rainfall cut water in major dams, especially in the Chao Phraya basin," said Kanit Likhitvidhayavuth, deputy secretary general at the office, referring to the river that flows through the main growing areas. "Rice prices are unattractive, prompting growers to switch to other crops," he said in an interview on April 7.
Rates of Thai 5-percent broken white rice, an Asian benchmark, fell to $401 a ton on March 25, the lowest level since June. Futures traded on the Chicago Board of Trade have slumped 32 percent in the past year to $10.66 per 100 pounds.
Growers worldwide will harvest 475 million tons of rice on a milled basis in 2014-2015, near the record 477 million tons a year earlier, according to U.S. Department of Agriculture data. Thai shipments will rise 0.3 percent to an all-time high of 11 million tons, the data show.
Farmers in Thailand will probably harvest 33 million tons in the 12 months from October, Kanit said.
Before it's here, it's on the Bloomberg Terminal.
LEARN MORE