Durst Indicted on Two Gun Charges by New Orleans Grand Jury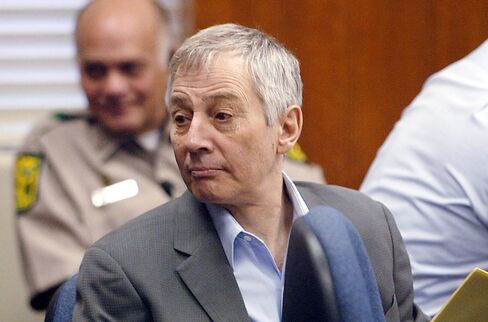 Real estate heir Robert Durst was indicted by a grand jury in New Orleans and separately charged with weapons offenses by the U.S. as he awaits extradition to Los Angeles where he's accused of murdering a friend in 2000.
Durst's indictment Wednesday follows his arrest March 14, the day before HBO showed the last installment of "The Jinx: The Life and Deaths of Robert Durst," in which he appears to admit killing three people including his friend Susan Berman in Los Angeles.
Los Angeles police last month issued a warrant for Durst's arrest for the murder of Berman, who was found shot to death shortly before she was to be interviewed by Westchester County, New York, prosecutors about the 1982 disappearance of Durst's wife.
Los Angeles prosecutors said in a criminal complaint that Durst killed Berman because she was a witness to a crime. Durst has maintained his innocence in both his wife's disappearance and in Berman's death.
Durst is being held without bond, Christopher Bowman, a spokesman for the New Orleans district attorney, said Wednesday.
Durst was charged with possession of a weapon by a felon and having a firearm together with a controlled substance. He faces as long as 10 years in prison on the drug count and 10 to 20 years on the other, Bowman said.
The indictment may delay or thwart Durst's being taken to California to face the murder charge. A court hearing on extradition is scheduled for Thursday in New Orleans.
"As a practical matter, the indictment deprives of us our day in court," Dick DeGuerin, Durst's lawyer, said in an interview. The case "changes every hour," he said.
Separately, the U.S. attorney in New Orleans charged Durst Tuesday as a felon in possession of a firearm.
Durst was convicted of jumping bail after he disappeared following his arrest in Texas on suspicion of murder in 2001. Durst had been living in Galveston disguised as a mute woman and was picked up when the body parts of his neighbor were found floating in plastic bags in Galveston Bay.
Durst was acquitted of murder by a jury in 2003. He admitted to shooting his neighbor, claiming self-defense as they struggled for a gun. He said he panicked and disposed of the body because he feared he wouldn't be believed after New York prosecutors reopened the investigation of his first wife's disappearance.
Before it's here, it's on the Bloomberg Terminal.
LEARN MORE