Flatter German Yield Curve Seen After First Month of ECB Buying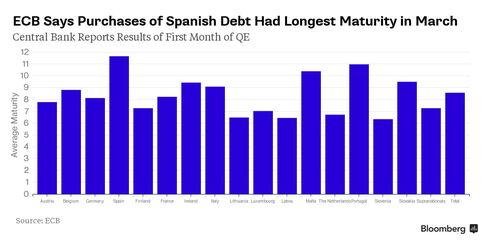 While the European Central Bank's first month of bond buying hit its target, the make-up of the purchases show that national institutions may need to work harder to convince some investors to part with their holdings.
Bonds purchased by national central banks in Europe's core countries, including Germany, France and the Netherlands, had shorter average maturities than those in Spain and Italy, according to an ECB report published Tuesday.
That may imply a reluctance among investors to sell the longer-dated core securities at current levels, which may drive up prices when central banks step up purchases of longer-dated debt to match their targets, according to Societe Generale SA. Royal Bank of Scotland Group Plc analysts said investors should bet that the yield curve in core countries will flatten, with yields on longer-maturity bonds falling faster than those on short-dated debt.
"If it is to meet its targets, the Bundesbank will have to step up its purchases of long-end, hard-to-buy, bunds," the Societe Generale analysts, led by Paris-based head of research Patrick Legland, wrote in a note. "This will remain a powerful force supporting long-end bunds into year-end."
The average maturity of 8.1 years for German bond purchases in March was more than one year shorter than Italy's and three years less than Spain's. Securities acquired under the ECB's quantitative-easing plan from the Netherlands, the fifth-largest nation in terms of government-debt purchases, mature in an average of 6.7 years, while those of France averaged 8.2 years.
Yields Decline
Germany's 10-year yield fell two basis points, or 0.02 percentage point, to 0.17 percent as of 4:08 p.m. London time. The 0.5 percent bund due in February 2025 rose 0.21, or 2.10 euros per 1,000-euro ($1,080) face amount, to 103.27.
The nation's 30-year yield declined two basis points to 0.66 percent, leaving the difference, or spread, between the two securities at 49 basis points. That's down from 97 basis points in September, the highest closing level last year, according to data compiled by Bloomberg.
"Activity was skewed to the short-end in the core, and to the long-end in the periphery," the RBS analysts, including London-based Giles Gale, wrote in the note. "We expect that activity may have been skewed partly by available liquidity due to supply, which has been longer in the periphery. But this encourages us to think that core NCBs have found it hard to find offers in longer paper. As NCBs struggle to extend to match their indices, we expect bullish flattening pressure."
Debt Sales
Germany allotted 3.29 billion euros of two-year notes at an average yield of minus 0.28 percent, the lowest on record. Switzerland auctioned 10-year government debt with a negative yield for the first time, selling 233 million francs ($241 million) of bonds due in July 2025 at an average yield of minus 0.055 percent.
A negative yield means investors buying the securities now will get less back when the debt matures than they paid.
The spread between French two- and 30-year yields narrowed to 121 basis points on March 20, the least on a closing-price basis since December 2008. The gap was 131 basis points on Wednesday.
The ECB reported purchases of 41.68 billion euros of government debt in March. German buying, at 11.1 billion euros, made up the biggest proportion. French bonds comprised 8.8 billion euros of the purchases and supranational debt 5.7 billion euros, the ECB said.
Before it's here, it's on the Bloomberg Terminal.
LEARN MORE