Oil Rises as Iran Says Nuclear Deal Must End Sanctions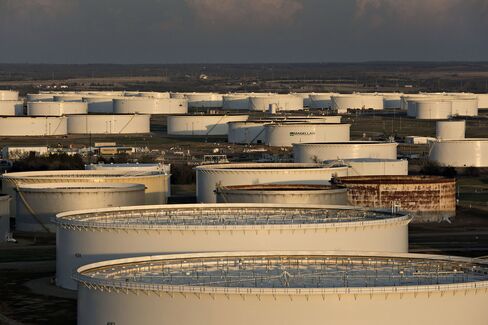 Oil rebounded from the biggest one-day decline in two months as Iran said it would only agree to curb its nuclear program if all economic sanctions are lifted from the start.
Futures rose 0.7 percent in New York following a 6.6 percent slump on Wednesday. Iran's President Hassan Rouhani said a preliminary accord with world powers reached on April 2, which could let oil exports flow more freely, will only be signed if all sanctions are removed. U.S. and EU officials have said the restrictions should be lifted gradually. Iran sent a destroyer and other vessels toward Yemen to secure maritime routes, the Islamic republic's Fars news agency reported.
Oil's 17 percent rally from a six-year low on March 17 is being stymied by continuing signs of the global supply surplus that cut prices by almost half in 2014. Saudi Arabian Oil Minister Ali Al-Naimi said on April 7 that the kingdom is pumping 10.3 million barrels a day, which would be the highest since at least 2002.
"The Iranian president's statement about needing sanctions to be lifted before implementing a nuclear deal seems to have sparked some buying," Gene McGillian, a senior analyst at Tradition Energy in Stamford, Connecticut, said by phone. "The market is showing surprising strength given how huge supply and production are here."
WTI Rebound
West Texas Intermediate for May delivery increased 37 cents to settle at $50.79 a barrel on the New York Mercantile Exchange. Total volume was 15 percent higher than the 100-day average at 2:48 p.m.
Brent for May settlement climbed $1.02, or 1.8 percent, to end the session at $56.57 a barrel on the London-based ICE Futures Europe exchange. The European benchmark oil closed at a $5.78 premium to WTI.
Gains accelerated amid speculation that the Iranian naval movement may inflame the crisis in Yemen. Iranian Supreme Leader Ayatollah Ali Khamenei urged Saudi Arabia to cease airstrikes targeting Shiite rebels in Yemen, calling the campaign "genocide" against the Yemeni people. His remarks raised the rhetoric at the end of two weeks of strikes by a coalition of 10 Sunni-led nations assembled by Saudi Arabia.
Geopolitical Move
"The move today is geopolitical," Michael Corcelli, chief investment officer of hedge fund Alexander Alternative Capital LLC, said by phone. "A lot of powers in the region aren't happy that Iran appears close to a deal over its nuclear program. A lot of issues are coming to a boiling point right now."
In his first public comments addressing the pact that was outlined in Lausanne, Switzerland, Khamenei said on Thursday he was "neither for it, nor against it." Envoys from the U.S., U.K., France, Russia, China, Germany and Iran have given themselves until June 30 to reach a permanent deal.
Iran could increase production by 800,000 barrels a day to its full capacity of 3.6 million within three months, the Paris-based International Energy Agency said on Feb. 10.
U.S. crude stockpiles rose 10.95 million barrels to 482.4 million last week, the highest level in weekly data compiled since August 1982, the Energy Information Administration reported on Wednesday. Supplies at Cushing, Oklahoma, the delivery point for WTI traded in New York, increased by 1.2 million barrels to a record 60.2 million.
'Record Pace'
"The long-term trend for oil is down," Corcelli said. "There's still some capacity at Cushing, but we are taking that up at a record pace. We'll soon be at capacity, which is something that's never happened before."
U.S. crude production climbed 18,000 barrels to 9.4 million a day in the seven days ended April 3, the data showed. The nation pumped 9.42 million a day in the week ended March 20, the most since at least January 1983.
The U.S. oil boom has been driven by a combination of horizontal drilling and hydraulic fracturing, which has unlocked shale formations. As prices slid, drillers have reduced the number of active rigs by almost half since December, according to data from Baker Hughes Inc., an oilfield services company.
Storage Concern
"We're going to continue to see a lot of volatility in the market," Rob Haworth, a senior investment strategist in Seattle at U.S. Bank Wealth Management, which oversees about $126 billion of assets, said by phone. "Inventories climbed more than three times what was expected last week and production was up again. If we continue on this path storage will be full by the end of the year."
Oil prices at current levels will boost demand, and the market will need "some time" to rebalance, said Nasser Al-Dossary, an adviser to the oil minister of Saudi Arabia, the world's top crude exporter. The role of the Organization of Petroleum Exporting Countries is to maintain the market's balance and not to keep prices high, he said at a conference in Riyadh on Wednesday.
Gasoline futures for May delivery gained 2 cents, or 1.2 percent, to settle at $1.7592 a gallon. May ultra low sulfur diesel climbed 2.87 cents, or 1.7 percent, to close at $1.7268.
Before it's here, it's on the Bloomberg Terminal.
LEARN MORE