Oil Is Diving After the Biggest Inventory Build in 14 Years
Three times more than estimates
America's oil in storage just hit another record after rising by the most since March 2001. Crude prices fell as much as 5.9 percent today.
WTI Crude Prices Tumble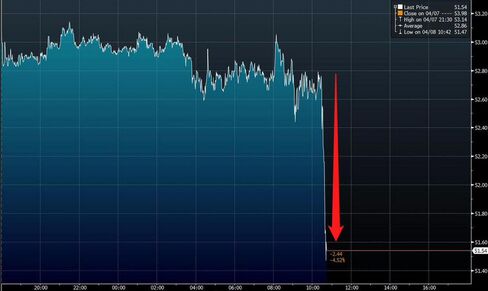 Stockpiles rose 10.95 million barrels, or 2.3 percent, to 482.4 million barrels last week, the EIA reported today. Analysts had expected an increase of 3.25 million barrels. The amount of oil the U.S. is cranking out also edged up, to a rate of 9.4 million barrels a day.
Investors have been closely watching the oil gather in storage tanks, which has been rising steadily since the oil-price crash started last year. This was the 13th consecutive increase in crude inventories, the biggest streak going back to 1983.
Stockpiles are more than 25 percent above their five-year average. Inventories aren't likely to max out, but even the possibility of coming close is adding pressure to an oversupplied oil market.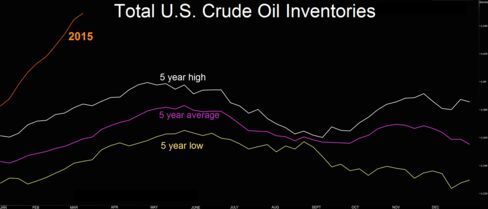 U.S. crude production has been at the highest in decades even as drillers have made unprecedented reductions in the number of oil rigs out drilling new wells. The glut isn't ending soon.
Oil Production vs Active Rigs
http://www.bloomberg.com/graphics/2015-oil-rigs/embed.html?
Read This Next:
Before it's here, it's on the Bloomberg Terminal.
LEARN MORE