Nicklaus Gets First Augusta Ace as Streelman Wins Par-3 Contest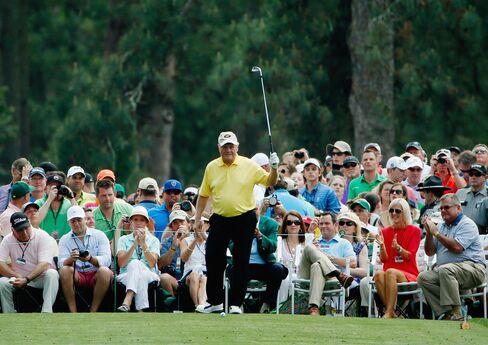 Jack Nicklaus made a hole-in-one at the Masters Tournament's annual par-3 contest, his first ace in more than 50 years playing at Augusta National Golf Club.
Kevin Streelman beat Camilo Villegas in a playoff Wednesday after both players finished tied at 5 under par for the nine-hole contest. Villegas made a pair of holes-in-one -- on the fourth and eighth holes -- before losing in the playoff after hitting a shot in the water on the third extra hole.
Nicklaus, 75, also made his hole-in-one on the 123-yard fourth hole, where his shot over a pond landed about four or five yards beyond the pin and then spun back into the cup. The crowd roared as Nicklaus threw his arms into the air and celebrated with playing partners Gary Player and Ben Crenshaw.
"I took a little eight iron. I choked down on it because we had a little wind in our face, and the hole plays uphill," Nicklaus said. "I just made sure I hit it good and solid."
The par-3 tournament was played on the nine-hole short course at Augusta National Golf Club, where Nicklaus won Masters titles in 1963, 1965, 1966, 1972, 1975 and 1986.
No player has gone on to win the Masters after a victory in the par-3 contest, which began in 1960.
Streelman is given 200-1 odds of winning the Masters at the Westgate Las Vegas SuperBook. Streelman had 13-year-old Ethan Couch, who has an inoperable brain tumor, serve as his caddie during the par-3 contest. Streelman had arranged it through the Make-A-Wish foundation, which he contacted to see if any child had a dream of attending the Masters.
"This isn't about me," Streelman, whose daughter Sophia spent a week in intensive care following her birth in December 2013, said ahead of the playoff. "It's about helping him out and showing him a great day."
Woods's Day
Tiger Woods and Rory McIlroy were among the other competitors in the par-3 event ahead of today's opening round at the Masters. Woods was accompanied by his kids and girlfriend Lindsey Vonn, while McIlroy had Niall Horan, a member of the band One Direction, as his caddie.
Woods let his 7-year-old daughter, Sam, make three short putts for him during the contest.
McIlroy, who let Horan hit a tee shot -- into the water -- on the ninth hole, said he saw Nicklaus practicing in advance of the contest last week at the Bear's Club in Florida.
"He was taking it pretty seriously," McIlroy said. "He didn't want to let himself down and obviously he didn't."
Before it's here, it's on the Bloomberg Terminal.
LEARN MORE