North Korea Missile Launches 'Welcome' Carter to South Korea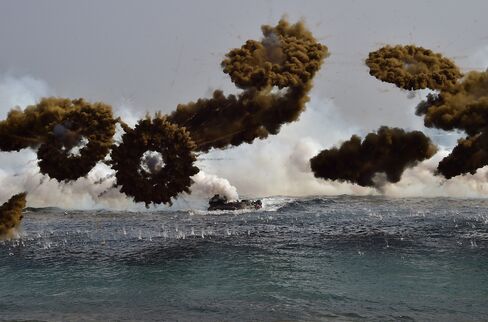 U.S. Secretary of Defense Ashton Carter arrived for talks in Seoul on Thursday after North Korea fired a pair of short-range missiles in the face of U.S.-South Korean military exercises.
"If it was a welcoming message to me, I'm flattered," Carter told reporters in Tokyo before flying to South Korea. The launches are "a reminder of how tense things are on the Korean peninsula. That's the reason I'm going."
Carter's three-day visit comes as the allies' demonstrate their combined military heft, seeking to deter North Korea from making good on threats to test another nuclear device. The most extensive live-fire drills of this year's exercises still ring in the ears of the regime in Pyongyang, which has slammed them as agitation for nuclear war. The U.S. and South Korea say they are purely defensive.
North Korea fired two surface-to-surface missiles on Tuesday into its western waters, South Korean Defense Ministry spokesman Kim Min Seok told reporters Thursday.
"These are missile launches so it reinforces the missile defense preparations we've long had on the Korean peninsula," Carter said.
The annual drills by the U.S. and South Korea elicit strong responses from North Korea -- two years ago it tested a nuclear weapon and it usually fires volleys of rockets. They serve as a reminder to Kim Jong Un that the government in Seoul is backed by the U.S. military, as both countries press him toward the negotiating table on his nuclear ambitions after world powers reached a preliminary deal with Iran.
North Korea has staged three nuclear tests since 2006, added to its missile stockpile and seems increasingly willing to use them, according to a senior U.S. defense official, who asked not to be named in accordance with the department's rules.
Response Preparedness
"The U.S. and South Korea need to be prepared to respond," Bruce Bennett, a senior defense analyst at the Rand Corporation, said by e-mail. "They need to show strength to deter Kim Jong Un from trying more diversionary tactics or serious diversionary conflict, seeking to convince him that such actions will fail and only undermine his power."
The Foal Eagle exercises reached a climax late last month with U.S. and South Korean troops firing rockets from helicopters and blasting tank-shells across a sandy valley on the South Korean side of the border.
Colonel David Womack, a U.S. Stryker Brigade commander, said after live-drills on March 25 that they were "a reflection of our alliance."
"We bring infantry, aviation, artillery and then a lot of things combined together we call mission command, and that's what makes this more lethal," Womack said.
Nuclear Tests
The exercises put more South Korean soldiers in contact with a greater variety of U.S. arms such as helicopters and armored vehicles, said South Korean Lieutenant Colonel Jang Hyun Soo. "It's valuable support when you have to drop down from air and fight in cities, which are potential scenarios."
North Korea has conducted three nuclear tests since 2006 as it seeks to compensate for the deterioration of its armed forces, which use outdated equipment such as Soviet-era fighter jets and tanks. After its last test in 2013, North Korea said it was able to arm long-range missiles with nuclear warheads.
Admiral William Gortney, head of the U.S. Northern Command, said on Tuesday that North Korea is capable of mounting a nuclear warhead on its road-mobile intercontinental ballistic missile. It was the strongest comment yet by a U.S. military official about the regime's miniaturization capacity.
Wartime Command
North Korea's nuclear threat prompted the governments in Seoul and Washington to agree on an indefinite delay in handing over wartime command of troops on the peninsula to South Korea from the U.S.
"North Korea has been its own worst enemy, convincing South Korea and the U.S. that they need to work closer together to deter North Korean threats," Bennett said. "There is the potential of an escalating spiral of military preparation. But the alternative is not acceptable: If the U.S. and South Korea decide not to prepare to defeat North Korean aggression, North Korea may well conclude that its aggression might actually work."
In 2010, North Korea killed four people by shelling a South Korean island near the sea border and, the same year, 46 sailors died after South Korean warship the Cheonan sank in those waters. The U.S. and South Korea blame North Korea for the Cheonan incident, a charge the regime denies.
Carter will visit the wreckage of the ship on display at a naval command post in Pyeongtaek, about 50 kilometers (31 miles) south of Seoul.
Asia Rebalance
The defense secretary is in Seoul following his visit to Tokyo, as he looks to build on President Barack Obama's so-called rebalance to the region. The U.S. military has in recent years reinforced its presence in South Korea, sending an 800-person cavalry battalion and 80 of its newest tanks to the country.
"Deterrence has been strengthened," said Michael Armacost, a former U.S. undersecretary of state for political affairs who is a researcher at Stanford University. "I suspect Pyongyang now realizes that aggressive acts against the Republic of Korea will expose it to severe retaliatory measures from the ROK, backed by the U.S., plus the danger of limits on the provision of fuel and food from its putative ally, China."
About 28,500 U.S. troops are stationed in South Korea, which itself has 630,000 armed forces facing North Korea's 1.2-million-strong military across the heavily armed demilitarized zone.
U.S. Weapons
U.S. weapons accounted for more than 90 percent of South Korea's arms imports each year in the three years after North Korea conducted its second nuclear test in 2009, according to the Stockholm International Peace Research Institute. Last year, the proportion was 73 percent.
"Equipment purchases from the U.S. ensure the U.S. and South Korean forces can operate together on the same battlefield, thereby achieving a key goal of improving allied capabilities," said George Ferguson, a Bloomberg Intelligence defense analyst. "South Korea's key location and the shared sacrifice of the Korean War has cemented this U.S.-South Korea bond and bodes well for both military sales between the countries and military cooperation."
Before it's here, it's on the Bloomberg Terminal.
LEARN MORE