Kenyan Neglect of Northeast Seen Stoking Islamist Resentment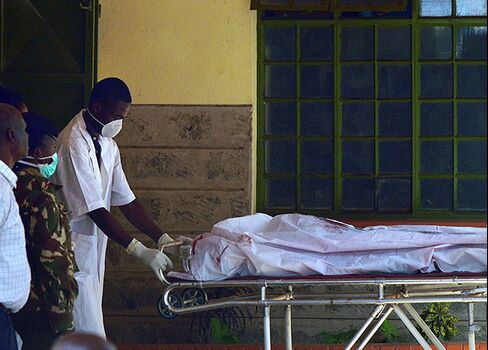 The Islamist militant group that attacked a university in northeastern Kenya last week is drawing on local perceptions of historic marginalization and mistreatment to attract recruits, an analyst and a rights activist said.
At least 147 people, most of them students, died when gunmen linked to Somalia's al-Shabaab, including the son of a local politician, stormed Garissa University College on April 2. Kenya is about 11 percent Muslim, with most of the rest of the country Christian.
The targeting of an institution mainly attended by Kenyans from other parts of the country plays on long-held grievances about regional underdevelopment held by a local ethnic Somali population that has some sympathies with the Islamist group, according to Amran Abdundi, executive director of the Frontier Indigenous Network, an advocacy organization.
Some Kenyan Somalis "sympathize with al-Shabaab because they are manhandled by security forces" meant to protect them, said Khalif Abdi, an independent security analyst based in Garissa. "The majority of people here have nothing to lose," he said, citing the government's failure to develop infrastructure and education since independence in 1963.
The three counties that make up the northeast have some of Kenya's largest proportions of people with secondary education or higher who are out of work, a measure of inequality, according to a 2013 report published by the Kenya National Bureau of Statistics. Some coastal counties and the capital, Nairobi, have similar figures.
Deadly Assault
The deadliest assault on Kenya in more than 15 years is the latest by al-Shabaab, which has waged an insurgency in neighboring Somalia since 2006 in a bid to impose Islamic law. After Kenya deployed troops there in 2011 following attacks on tourists and aid workers, the group responded by intensifying attacks on sites including bars and churches. In 2013, a raid on the upmarket Westgate shopping mall in Nairobi left at least 67 people dead.
Six suspects in last week's attacks, five of them Kenyan, are being held for a month while the police investigate, the Interior Ministry said Tuesday. Their nationality may signify that al-Shabaab has established itself on Kenyan territory and no longer organizes attacks from Somalia, according to Ahmed Salim, an analyst at Teneo Intelligence in Dubai.
Kenya's wider northeastern region that borders Somalia and Ethiopia has seen periodic unrest over the past three decades. The mainly ethnic Somali population campaigned for the region's absorption into Somalia 50 years ago, fighting a 1963-1967 insurgency after Kenya's government rejected the result of an plebiscite on which country it should belong to.
'Limited Development'
Emergency law was imposed on the region for three decades and development was limited, a policy that politicians such as Mohamed Ahmed, a former opposition lawmaker for Wajir West, describe as a deliberate government policy aimed at checking secessionism.
The northeast has been "one of the most historically marginalized areas of Kenya," the Institute for Security Studies, an African research institute, said in a 2004 monograph. The region has been "excluded from nation building and development" because of the pastoral lifestyle of many of its inhabitants and "the remote reaches of its geography," according to the report.
Addressing the nation on April 4, President Uhuru Kenyatta criticized a "false narrative" that Kenyan Somalis and Muslims are "victims of marginalization and oppression by the rest of Kenya." He urged people in the "affected regions" to not allow those who aid the militants to "compromise and even destroy the development that is fast growing in your area."
'Economic Transformation'
"There is more infrastructure being built than ever before, more of your children are being enrolled in schools and colleges, more services are being delivered," Kenyatta said in a televised address. "The economic transformation of the country will benefit you and your descendants, as they will all Kenyans."
Al-Shabaab has taken advantage of a popularly held sense of neglect in the three modern counties of Garissa, Mandera and Wajir, exploiting "the effect of direct marginalization" on education and other issues, according to Abdundi.
Garissa University College, the target of last week's raid, was founded in 2011 and is the only public institution in the region offering degree courses, according to its website. Few students were from Garissa or other northern districts, Abdundi said. Kenya has 31 public chartered universities or constituent colleges, the Commission for University Education says on its website.
Kenyan Suspects
One survivor, Peris Muriuki, said in an interview that she hid in a dormitory wardrobe and heard the militants tell students they were studying in the wrong town, one that "belongs to Muslims."
Adbi, the security expert, said al-Shabaab has managed to embed itself in the region by recruiting locals into leadership positions and taken advantage of local assistance to gather intelligence, choose targets and help with attack logistics.
Authorities have named two Kenyans suspected of involvement in the April 2 raid. Abdirahim Abdullahi, a university graduate and the son of a chief in the northern town of Mandera, was identified as one of the gunmen. Abdullahi's family reported him missing a year ago, suspecting he had joined al-Shabaab, and was working with police to trace him.
On the day of the raid, the government offered a $220,000 reward for the capture of Mohammed Mohamud Kuno, a suspected member of al-Shabaab whom the authorities say helped organize the Garissa attack and was "highly involved" in at least two other assaults in Kenya last year. A former teacher, Kuno was a commander for the militants in the Jubaland region of Somalia, the Interior Ministry said.
Curbing Recruitment
Many northeastern families have seen children join the militants, according to Abdundi. "What shocked me is that even those from middle-class families have joined al-Shabaab en masse and parents do want to admit the reality and report to the government," she said,
Adan Duale, member of parliament for Garissa, said security authorities are working with religious leaders to "curb fresh recruitment" and dismantle cells operating in villages, schools and mosques.
The national government could also combat the issue in the long-term by offering "sustained political goodwill" and helping development, Abdundi said.
The government needs to "open up the northern region and make the local population feel they are part of Kenya" Abdundi said. "Such a move can instill patriotism" and would make them more likely to report militant activities, she said.
Before it's here, it's on the Bloomberg Terminal.
LEARN MORE