Now might not be the best time to buy that Irish cottage.
Home prices in Ireland surged 16.1 percent last year — more than four times the average 3.9 percent increase for the 23 countries tallied in Federal Reserve Bank of Dallas data. Last year marked the second annual property value increase for Ireland after a five-year slump in which declines averaged 12 percent.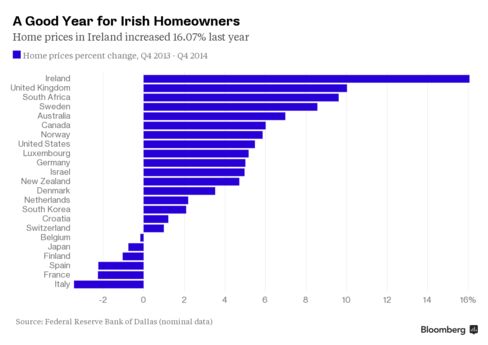 Ireland's rise was so steep that it helped convince regulators to act against a potential bubble by introducing tighter mortgage-lending standards. The limits already have damped prices this year in a country that's still healing from its worst recession on record.
Elsewhere, prices jumped in the U.K. by 10 percent, South Africa by 9.6 percent and Sweden by 8.6 percent — each of which was more than double the group's average. Like its neighbor, the U.K. is already showing signs of a more subdued housing market this year after double-digit growth in 2014.
On the other end of the scale, Tuscan villas may be headed for the discount bin. Property values in Italy declined by 3.4 percent last year for the biggest drop in the Dallas Fed data. The home-price discounts there and in neighbors France and Spain are allowing Ireland to catch up in terms of the level of those costs: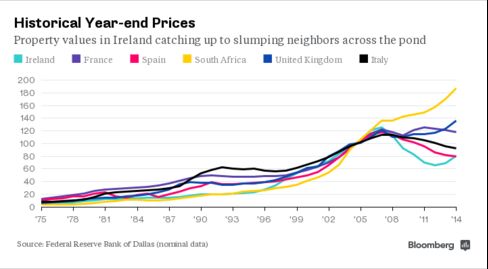 Japan, which still struggles to shake loose from deflation that loomed for more than a decade, barely missed home price increases last year as the values fell 0.75 percent, the data show. Finland's 1 percent contraction and Belgium's 0.2 percent drop rounded out the six countries with decreases.
What's bleaker for would-be homeowners across the economies surveyed: The Dallas Fed data are another sign that for most consumers — whether in Zagreb or London or Seoul — the math just doesn't add up to allow for a real-estate purchase. Property costs outpaced personal income gains in 15 of the 23 economies surveyed last year. While the former increased by an average 3.9 percent in those countries, incomes grew at less than half that speed, 1.8 percent.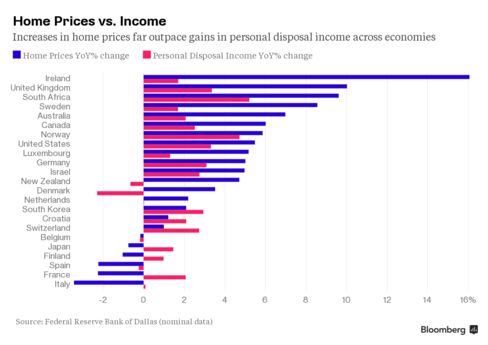 For more on the global economy, check out Benchmark:
Before it's here, it's on the Bloomberg Terminal.
LEARN MORE