French Air-Control Strike Prompts Scrapping of 1,600 Flights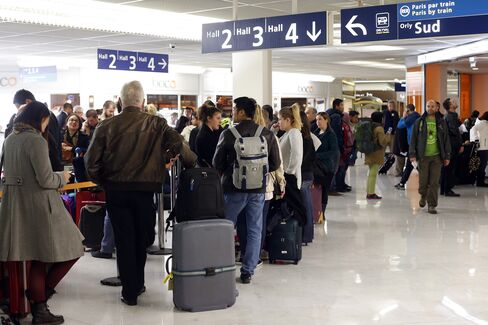 A strike by French air traffic controllers will lead to increased disruption Thursday, with about 2,000 flights set to be canceled after the loss of up to 1,600 today.
Airlines have been told that they should tomorrow scrap as many as 50 percent of the 4,000 services that begin or end in France during a normal day, up from 40 percent Wednesday, according to the country's DGAC civil aviation authority.
The French unit of Air France-KLM Group halted two-thirds of flights at its Paris Orly short-haul hub today, allowing it to maintain most of its lucrative long-haul operations. About 60 percent of Air France services from provincial cities will also depart as usual, spokesman Christophe Paumier said. The carrier plans to operate all its long-haul services tomorrow, and half of medium-haul flights from Charles de Gaulle airport.
Other airlines serving France have also been affected, including Air France's Dutch sister company KLM. In Germany, Deutsche Lufthansa AG canceled 24 services in and out of France today and 29 tomorrow, while among non-European companies, Qatar Airways scrapped a flight to Paris's main Charles de Gaulle hub.
Low-cost carriers, which run to tighter timetables, are generally worse hit than network operators. Ryanair Holdings Plc, Europe's leading discount specialist, scrapped more than 250 flights today with more likely to follow, according to its website, while EasyJet Plc has terminated 118 services.
Air Berlin
The 4,000 flights that use French airspace each day but don't touch down should not be not affected, according to the DGAC, though Air Berlin advised on its website that services to Spain, Portugal and Morocco could be impacted.
The DGAC plans to release cancellation requirements for Thursday once it knows how many controllers are still working.
The walkouts involve members of the SNCTA union who are seeking concessions on issues including retirement age and changes that will come as Europe moves toward a so-called single sky unifying air traffic control throughout the region.
Before it's here, it's on the Bloomberg Terminal.
LEARN MORE