Emerging Health-Care Rally Looks Tired After Valuation Surge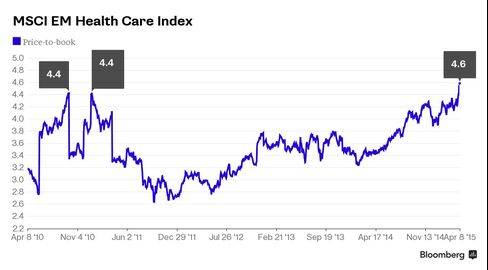 It's getting harder to take refuge in emerging-market health-care stocks after a rally that pushed valuations to levels that have historically presaged a retreat.
The price-to-book ratio on the MSCI Emerging Markets Health Care Index reached 4.6 on Wednesday, the highest level since March 2006, when it plunged to 2.8 by July. Readings of 4.4 in 2010 and 2011 were also followed by slumps in valuations.
The gauge surged 30 percent in the past 12 months, the most among 10 industry groups, as the prospect of U.S. interest-rate increases and slowing developing-nation growth prompted investors to seek assets less affected by the economic cycle. The broader index rose just 1.4 percent in the period while information-technology shares, the second-best performing industry, climbed 14 percent.
"Health care overall looks pricey," Hilde Jenssen, a money manager at Skagen Kon-Tiki equity fund in Stavanger, Norway, said by e-mail on Tuesday. "You have to be more careful about picking stocks in this space."
Price-to-book ratios on the MSCI emerging health-care index range from 7.7 for Mumbai-based Sun Pharmaceutical Industries Ltd. to 1.4 for Budapest-based Gedeon Richter Nyrt. Jenssen, who helps manage about $6.6 billion at Skagen, holds Richter, Hungary's largest drugmaker, and China Shineway Pharmaceutical Group Ltd., which has a price-to-book ratio of 1.8.
As well as attracting investors looking for a haven, some emerging health-care companies are also benefiting from the strengthening dollar, making their exports to the U.S. more competitive, Matt Dreith, an industry analyst at Wasatch Advisors Inc., said by phone from Salt Lake City. About 40 percent of U.S. pharmaceuticals are manufactured in India, Dreith said.
'Right' Valuation
"The great thing is that it's defensive, but there is still a huge amount of growth," he said.
Sun Pharmaceutical surged 77 percent in the past 12 months, while South Korea's Celltrion Inc. jumped 56 percent in the period and 89 percent this year.
There are other indicators that the rally is about to take a pause. The 14-day relative strength index of the health-care gauge climbed to 75 on Wednesday, the highest level since Jan. 26, and above the 70 level that typically signals prices will reverse. It trades at almost 26 times projected 12-month earnings, more than twice the average for the broader gauge.
The index slid 0.6 percent by 9:31 a.m. in London on Thursday, ending an eight-day winning streak that was the longest since August.
Health care "is not seen as sensitive to a potential Fed tightening," said Julian Mayo, the co-chief investment officer at Charlemagne Capital Ltd. in London with over $2.3 billion in developing-market assets. "If emerging-market growth recovers, as some think it will, the sector premium will fall. The larger emerging-market health-care stocks don't seem to offer good value."
Before it's here, it's on the Bloomberg Terminal.
LEARN MORE