Without Yellen's Dashboard, Rajan Has Hazy Outlook on India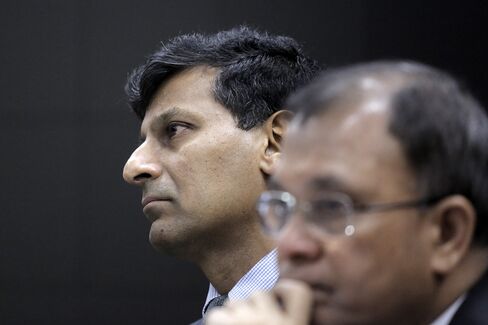 While Raghuram Rajan famously warned of the 2008 financial crisis to an audience that included U.S. policy makers, as India's central bank governor he's now at a big disadvantage in foreseeing economic growth.
Rajan held the benchmark rate on Tuesday at 7.5 percent and said his next monetary policy move will depend on incoming data, just like his U.S. counterpart Janet Yellen. That's where the similarities end.
Yellen relies on at least nine indicators to analyze the labor market alone, commonly referred to as her "dashboard," and the Federal Reserve tracks a slew of high-frequency data. Rajan, who recently won a formal inflation target from the government, has no employment gauge, faces data gaps from retail sales to wages, and is skeptical of revised growth figures -- making it tougher for him to gauge slack in the economy.
"When the RBI says that it will be data dependent, it creates a lot more instability because the data at the disposal of the RBI is limited and is not the best gauge," said Jyotinder Kaur, an economist with HDFC Bank Ltd. in Gurgaon near New Delhi, the capital. "It isn't making matters particularly easy for us in the market."
The Reserve Bank looks at data including consumer prices inflation, cement output, freight and industrial production, Deputy Governor Urjit Patel told reporters on Tuesday.
A central bank report on the same day said the government's new methodology to calculate gross domestic product -- which propelled Indian growth to 7.4 percent, matching China -- had made forecasting "tenuous." Rajan added that the number may be revised downward once more information becomes available.
No Choice
Various models "point to a gradual pick-up in growth," the central bank said, noting a resurgence in inflation, poor monsoon and fiscal slippage as risks. Output growth, calculated using gross value added at basic prices, is projected at 7.8 percent in the year through March 2016 from 7.5 percent the previous period, rising to 8.1 percent in the next 12 months.
The economy is still performing below potential, Rajan told analysts in a conference call on Tuesday.
It's important for central banks to estimate potential growth to figure out when an economy is close to overheating and generating inflation. Economists in India scrutinize everything from steel sales to crop sowing to get a more accurate picture of the economy, a recent Bloomberg survey shows.
"It's quite well known that India has severe data issues, and with the recent GDP numbers the issue has probably been more complicated than ever," said Samiran Chakraborty, an economist at Standard Chartered Plc in Mumbai. "But having said that, what choice do we have? We cannot run a monetary policy which is extremely subjective."
Composite Picture
Rajan at the policy review said he'd look at incoming data in conjunction with harder-to-quantify measures as conditions for further easing. Those include monsoon prospects, lending rates of commercial banks, subsidy spending and the government's efforts to make more land and power available.
"It will be a composite picture that we'll be looking at rather than any single data variable," he said.
The Fed, among other indicators, looks at wage growth data, housing starts, manufacturing activity and the personal consumption expenditures price index -- a favorite inflation measure. In Asia, the Bank of Japan also has a wide range of data to draw on, including industrial output and the tertiary index.
In other emerging markets, Russia's available figures range from retail sales to wages adjusted for inflation and unemployment. Brazil measures employment and job creation monthly and publishes a weekly survey of about 100 analysts forecasting all major economic indicators.
'Major Gaps'
In India, industrial production has been volatile and there is no regular report on the labor market. The consumer-price index, the gauge picked by Rajan for inflation, "can be taken with some degree of seriousness" but is likely to swing a lot, making it hard for the central bank to detect an underlying trend, said Kaur from HDFC Bank.
A central bank panel submitted in July a report pointing to "major data gaps in monetary policy making" and recommended compiling indicators including producer price index, labor force surveys, urban wages and household indebtedness.
"Given the scarcity of data in a complex environment, it naturally puts a degree of caution and conservativeness in formulating monetary policy easing," said Saugata Bhattacharya, an economist at Axis Bank Ltd. in Mumbai "The improvement in the data environment is now critical for India."
(A previous version of this story was corrected to say that Rajan won a formal inflation target.)
Before it's here, it's on the Bloomberg Terminal.
LEARN MORE