Speed-Trading IPO Poised to Make Virtu's Viola a Billionaire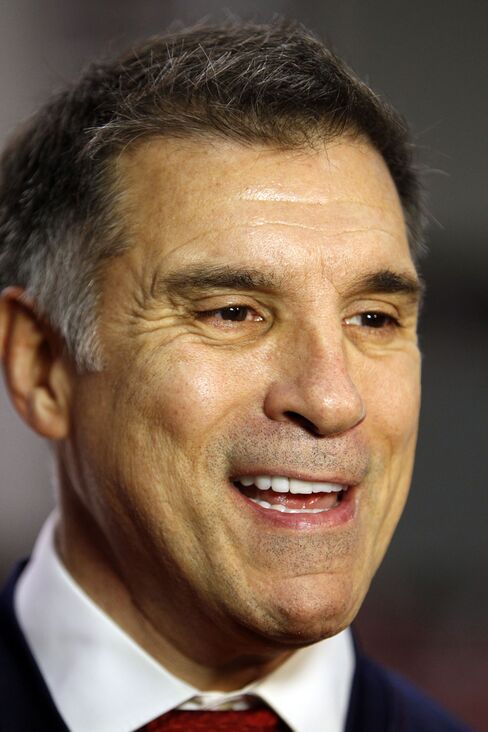 Vincent Viola's Virtu Financial Inc. shelved an initial public offering last year after Michael Lewis's "Flash Boys" brought the high-frequency trading firm under attack. He was up for the fight.
Viola, 59, graduated from West Point and the U.S. Army Airborne, Infantry and Ranger schools and served in the 101st Airborne Division, according to Virtu's website. He was chairman of the New York Mercantile Exchange from 2001 to 2004, after starting his career on the Nymex trading floor and working his way up through the organization.
Richard Schaeffer, himself a former Nymex chairman, first met him in the early 1980s when Viola was his student in a class that traders had to take to become members of the exchange. In the years that followed, Schaeffer said, he could see all the ways Viola's training had set him up for success.
"His military background was great training for the industry he went into," Schaeffer said. "Discipline, brains, logistics, helping your fellow man -- all those things describe Vinnie."
Persistence is poised to turn Viola into a billionaire. Through a family trust, he owns 59 percent of New York-based Virtu, which could fetch a $2.6 billion valuation in its IPO, according to a Monday filing from the company.
Lewis's Allegations
Viola and Chief Executive Officer Doug Cifu steered the business to revenue and profit gains last year even as critics asserted high-frequency trading hurts investors. That battle began when Lewis told the television program "60 Minutes" that markets were rigged, with exchange operators letting high-speed traders siphon profits.
"For them to float the idea of an IPO now, that's a testament to even and steady management," Larry Tabb, CEO of research firm Tabb Group, said in an interview.
Viola was Virtu's first CEO before handing over the reins to Cifu. While Viola stepped away from running the firm day-to-day, he "provides the board of directors with valuable insight regarding strategic decisions and the future direction of our company," according to Virtu's filing.
Schaeffer also recalled how Viola helped rally board members at the New York Mercantile Exchange in the days after the Sept. 11, 2001, terrorist attacks killed 32 employees, members and others who had worked at the exchange. Viola held a Nymex board meeting at West Point in upstate New York, a move that showed his leadership and care for his team, said Schaeffer.
NHL Team
Cifu, 49, who founded Virtu with Viola and Graham Free, previously spent 18 years at the law firm Paul Weiss Rifkind Wharton & Garrison LLP, where he was partner and co-head of the private-equity practice. He and Viola bought the National Hockey League's Florida Panthers in 2013 in a deal reported at $250 million.
Cifu is responsible for Virtu's daily operations, a role that was broadened after President Chris Concannon left in November for stock-exchange operator Bats Global Markets Inc., where he's now CEO.
"Doug's an even-keeled guy, he's got a level head and his confidence has helped them keep everything on track," said Tabb. "He's certainly respected, but he's fairly low-key and keeps a low profile."
The company will offer about 16.5 million shares at $17 to $19 apiece, according to Monday's filing. At the high end of the offering range, Virtu would be valued at about $2.6 billion, based on 136.5 million shares outstanding.
Bad Timing
Virtu withdrew its original plan for an IPO after Lewis, a Bloomberg View columnist, appeared on "60 Minutes" March 30, 2014, to lay out his thesis about the stock market and released "Flash Boys" the next day, setting off a debate over the fairness of Wall Street's mechanics. Shares of KCG Holdings Inc., the closest equivalent to Virtu in the public market, fell 18 percent in the two weeks that followed.
"It's pretty clear the controversy surrounding Flash Boys sidetracked their IPO last time," said Craig Pirrong, a finance professor at the University of Houston. "There's been a lot of debate since then and a lot of the original hysteria and demonization of HFT has abated," creating a more conducive atmosphere for Virtu to sell shares, he said.
Amid the outcry, critics focused on a disclosure in Virtu's financial records that it had lost money on only one trading day in five years as evidence that the firm was somehow cheating the system. Virtu's executives have said the steady gains instead resulted from the diversity of its market-making operations, as well as skill with risk management and technology. The updated filing shows that streak has extended to one day in six years.
"I thought it would be a good thing to disclose to the world that the firm was profitable every day," Cifu said at a Sandler O'Neill & Partners conference in June. "But boy, did that backfire in my face, so I take responsibility for that."
Before it's here, it's on the Bloomberg Terminal.
LEARN MORE