The Cheap Toys You Buy Your Kid Are Rarely Inspected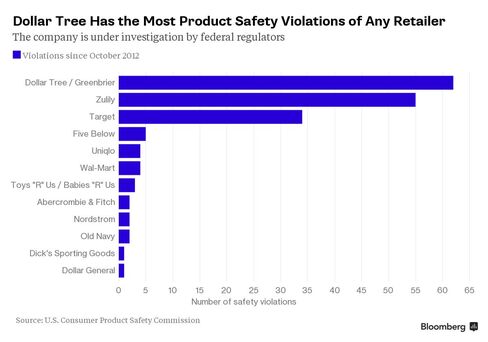 On a Sunday evening in December 2011, 4-year-old Ixchel Tamayo was coloring a poster of Jessie, one of her favorite characters from the Disney film "Toy Story," with six white-capped mini-markers.
Ixchel ran back and forth to her parents, who were hosting a prayer group in the dining room of their Philadelphia home, to show off the poster. The last time, she was gasping for air as she clutched a capless marker. She died of asphyxiation at the hospital with the cap stuck in her windpipe.
Her parents had purchased the China-made art set for $1 at a Dollar Tree Inc. store. It didn't carry a choking-hazard warning, even though a Dollar Tree product testing specialist had suggested having one, and the cap's width of less than 1 centimeter didn't meet international safety standards.
"It is a very comfortable lie that Americans are living that Uncle Sam is looking out for them to make sure products are safe," said David Kwass, an attorney who represented the Tamayo family in a lawsuit against Dollar Tree, Walt Disney Co. and others that was later settled. "He's not."
Almost seven years after children's deaths and injuries from collapsing cribs and defective toys led to new standards for consumer products, the rarity of inspections -- as well as loopholes in the law -- are undermining its effectiveness. As a result, both companies and the government can fail to protect families.
Inspections Rare
The U.S. Consumer Product Safety Commission, which regulates 10,000 products ranging from apparel to household appliances, inspects less than 1 percent of imports under its jurisdiction. With the odds stacked against being detected, cost-cutting foreign manufacturers continue to supply dangerous goods to U.S. retailers.
While Dollar Tree has the most violations of any retailer cited by the safety commission, Target Corp. and Zulily Inc. also rank among the top 10 companies failing to meet standards for flammability, lead content and other criteria, commission data show. The commission is investigating Dollar Tree for consumer product safety incidents reported since 2009, according to company filings from May and last month.
"For a company to be a repeat offender, and import unsafe goods over and over again, is a real problem for consumers," said Nancy Cowles, executive director of Kids in Danger, a Chicago-based nonprofit group that advocates for safer children's products.
Dollar Tree spokesman Randy Guiler -- who declined to comment on the investigation, as well as the Tamayo case and its settlement -- said the company uses commission-approved laboratories to "ensure our suppliers' products meet all safety and legal standards." Dollar Tree, based in Chesapeake, Virginia, imports only products that have passed this independent testing, and the company is deploying additional quality-control inspectors to visit manufacturing facilities daily, he said.
"We work constantly to ensure our suppliers' products are compliant and safe," Guiler said in an e-mail. "We also ensure that products that have failed testing are destroyed."
Disney licensed the Toy Story characters and had the contractual right to approve all product packaging, including a warning label, Kwass said. Disney spokeswoman Tasia Filippatos referred questions to its licensee, Peachtree Playthings, also a defendant in the Tamayo family's lawsuit. Peachtree, which didn't respond to requests for comment, said in court papers that its products were safe and complied with the law.
The sponsor of the 2008 safety legislation worries that it isn't deterring violators.
"I would like to see more inspections," said former U.S. Senator Mark Pryor. "If people know that stuff is going to get caught at the border coming in, there's going to be less incentive overseas to cheat."
Pink Tricycle
The 2008 law's requirement that retailers hire accredited labs to test children's products for safety didn't help Ixchel Tamayo. Ixchel, who sometimes wore her curly dark hair down to her shoulders and sometimes in pigtailed braids, watched over her younger sister as the two played together in the family's apartment in northeast Philadelphia. Her leopard-print jacket, rain boots, sunglasses, tights and feathery hair ties were all in her favorite color, pink.
A Spanish-language video tribute to her posted on YouTube shows Ixchel riding her pink "Dora the Explorer" tricycle while wearing knee pads and a safety helmet. Since she loved "Toy Story," Minnie Mouse and crafts, the Disney-themed art set must have seemed to her doting parents like the perfect gift.
Dollar Tree's original packaging for art sets with mini-markers carried a choking warning, which is required for children's toys and games with small parts.
Bureau Veritas SA, the France-based lab operator used by Dollar Tree, advised the retailer to categorize the markers as writing implements, which are excluded from the limits on small parts, according to previously unreleased 2009 e-mails provided by the family's lawyer.
Under the federal standard, any toy or game for children aged 3 to 6 that contains a small part must bear a choking hazard warning except for "writing materials such as crayons, chalk, pencils and pens," along with finger paints and watercolors. Some mini-marker art sets sold online by retailers such as Wal-Mart Stores Inc. carry the warning; others don't.
"Writing materials (pens) are exempted from the 'Small Part' definition," Jason Sallese, a Bureau Veritas senior program manager, wrote to Dollar Tree in June 2009. "These markers fall under this scope."
Sallese said in a phone call that the Tamayo lawsuit "doesn't ring a bell." He declined to comment further. Bureau Veritas spokeswoman Margaret Collopy also declined to comment, citing client confidentiality and corporate policy.
Avoiding Warnings?
Some lab testers may feel beholden to their retail clients, even helping them avoid safety warnings that could hurt sales, said Susan Hoeller, a Florida attorney who specializes in product safety and regulations, speaking generally.
In 2011, the federal commission started conducting systematic border inspections of imports, focusing on children's items. Data on violations prior to October 2012 were unavailable.
Other federal regulators, such as the U.S. Food and Drug Administration, also inspect only a small fraction of imports. Even with limited inspections, the product safety commission has stopped 16.4 million items that failed to meet federal standards, including 823,000 destined for Dollar Tree and 705,000 for Target, from being sold since October 2012.
The commission has cited violations in 62 lots bound for Dollar Tree and its subsidiary, Greenbrier International Inc., more than to any other retailer. In the past two months, the commission reported that military action figures, ninja archery play sets and toy motorcycles produced in China for Dollar Tree contained too much lead. Dollar Tree stopped sales of those toys and agreed to correct future production of them.
Other safety violations in children's products bound for Dollar Tree have included cowboy play sets, toy walkie-talkies and jewelry containing lead, as well as dolls and other toys with excessive levels of phthalates, a group of chemicals used to soften plastic that has been linked to hormone disruption and birth defects.
In several instances, after a factory shipped an unsafe product, Dollar Tree and Greenbrier still used the supplier a second time, the data show. The commission reported in December 2012 that Greenbrier imported toy bowling sets containing lead from supplier Yi Feng Toys Factory of China. Four months later, it cited Greenbrier for importing baby bottles with small parts from the same factory.
The company hasn't used Yi Feng for almost two years, Guiler said. Yi Feng couldn't be reached for comment.
Toy or Pen?
The velvet coloring sheets with mini-markers that killed Ixchel Tamayo weren't listed as a violation. The commission has neither investigated her death "nor conducted or obtained any evaluations" of the markers, it said last month in response to a public records request. Commission spokesman Scott Wolfson said markers "would likely fall within the pens category" of the exemption.
Wolfson declined to comment on the commission's staff investigation of Dollar Tree incidents. Generally, its investigators collect samples and test them at the commission's own lab, he said. They also may ask the company under scrutiny to turn over records. Investigations that find violations of federal standards can lead to civil penalties.
For example, the commission fined General Electric Co. $3.5 million in February for knowingly failing to report electrical fires from defective Mexican-made ranges and U.S.-manufactured dishwashers in a timely fashion. There were no serious injuries, and GE doesn't admit the allegations, company spokeswoman Kim Freeman said.
Zulily, an online retailer based in Seattle, ranked second behind Dollar Tree, with 55 unsafe lots. In December, the commission cited jackets, tunics, denim pants and sweater dresses made in China for Zulily for containing lead.
Zulily spokeswoman Andrea Conrad said that all of its vendors are required to meet safety standards.
"While these violations represent an extremely small percentage of the products we have sold on Zulily, we take each instance seriously," she said in an e-mail.
Most of Minneapolis-based Target's 34 violations involved flammable sleepwear imported from Cambodia for its exclusive Circo children's brand.
"We rigorously test our owned-brand merchandise before it arrives at our stores or at Target.com," Target says on its website. "First and foremost, we test products to validate that they meet or exceed safety and regulatory requirements."
Separate from the commission's data, the U.S. Public Interest Research Group, a nonprofit consumer advocate, cited more unsafe products from Dollar Tree than any other retailer in its November report on toy safety. The group found that Dollar Tree was selling a sheriff badge play set that contained too much lead, as well as six toys that were choking hazards. Guiler declined to comment on products cited in the report.
Acquisition Deal
In January, shareholders of Family Dollar Stores Inc. approved Dollar Tree's $8.81 billion takeover offer. The deal, which could close as early as this month, would make Dollar Tree the largest U.S. dollar-store chain, with about 12,000 locations. Dollar Tree's stock price, which dropped 0.5 percent on Tuesday, has increased 14 percent this year to $80.58.
Family Dollar sells products at multiple prices, while Dollar Tree sells most items for $1. The federal product safety commission hasn't cited Family Dollar for any violations, according to available data.
To help pay for hiring more inspectors and scrutinizing more products, the commission has proposed a "user fee" on importers of about 7 cents per $1,000 of value. Groups such as the Retail Industry Leaders Association, of which Dollar Tree is a member, expressed concern last May about "the impact this new fee and program expansion would have on commerce."
The Tamayo case shows how potentially dangerous products can reach U.S. shelves. Besides the lack of a warning, the markers' caps failed to meet voluntary size and design guidelines set by the ISO, or International Organization for Standardization, according to a mediation memorandum by attorneys for Tamayo's family. The product safety commission recommends that U.S. retailers follow voluntary standards.
Ixchel's parents, Francisco Tamayo and Guadalupe Luis, sued Dollar Tree, Greenbrier, Disney, Pixar and Peachtree in 2013. The case was confidentially settled last year. The family was seeking a $12 million settlement, according to the mediation memo.
Georgia-based Peachtree Playthings supplied the art sets to Dollar Tree, according to court documents. Any products distributed by Peachtree weren't "unreasonably dangerous" and were "manufactured, designed, inspected and labeled in conformity with the generally recognized state-of-the-art," the company said in court papers. The safety commission hasn't cited Peachtree for any violations, according to the data.
Disagreement Over Warning
Debbie Smith, a Dollar Tree senior import testing specialist, advised Bureau Veritas on June 2, 2009, that art sets with mini-markers needed a small parts warning. "It comes with markers and the lid of the markers is the small part," Smith wrote.
After Bureau Veritas's Sallese disagreed, Smith sided with his interpretation of the rule. "Markers are considered to be writing utensils and writing utensils are exempt from the small parts requirement," she e-mailed two employees of Peachtree Playthings less than a week later. "For future orders of this item, please make sure the packaging does not include the small parts warning."
Smith didn't respond to messages seeking comment.
Tested as a writing tool rather than a toy, Ixchel's art set passed Bureau Veritas's inspection, according to records provided by the Tamayo family's attorneys. Dollar Tree still imports Peachtree products, according to records compiled by online trade database ImportGenius.com, and mini-marker art sets are still sold on Dollar Tree's website. A Dollar Tree store in Dorchester, Massachusetts, visited by a reporter last month, was selling two sets with mini-markers. One had a choking warning and one -- which was stamped with a 2014 date -- didn't.
"The fact that there's some with warnings and some without goes against the whole idea of quality assurance," said Hoeller, the Florida product safety attorney. "They're supposed to be the same."
Before it's here, it's on the Bloomberg Terminal.
LEARN MORE