The $33 Billion Silver Lining to Israel's Stock-Market Exodus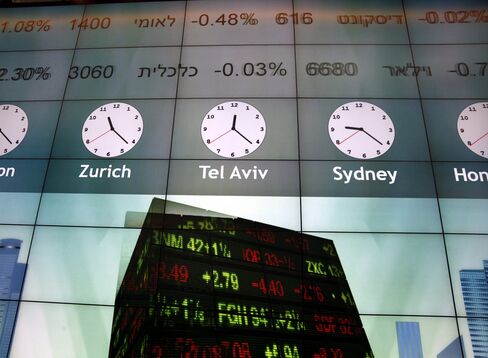 As stock trading in Israel plunges and public offerings dry up, the country's flagship bourse may have found a savior: exchange-traded notes.
The volume of trading in ETNs, which are similar to exchange-traded funds but have stricter return rules, rose to an average $100 million a day last year and now make up 35 percent of all Tel Aviv Stock Exchange equity turnover, bourse data show. There are more than 6,200 exchange-traded products worldwide, and Israel is home to about 10 percent of them, second only to the U.S., according to data compiled by Bloomberg.
The booming industry offers some consolation for the bourse after an MSCI Inc. upgrade to developed-market status five years ago triggered a 46 percent drop in trading volumes on the main exchange. Growth in Israel's 130 billion-shekel ($33 billion) ETN market in 2015 will match last year's 15 percent expansion as more Israelis turn to foreign shares, according to two of the four brokerages that dominate the domestic market.
"ETNs are the mouse that roared," Eyal Segal, the chief executive officer of Bnei Brak, Israel-based Tachlit Trackers Ltd., which oversees about $8.7 billion, said in an interview on April 5. "Israelis understand they have to invest overseas and ETNs offer a convenient way there."
Tachlit issued another three ETNs last week, according to a Tel Aviv bourse filing on April 1, bringing the total in Israel to 633.
'Job Security'
About 47 percent of the Tel Aviv Stock Exchange's equity turnover last year came from trading in companies on the benchmark TA-25 Index, compared with 51 percent in 2013, according to bourse data. Money managers purchased $2.1 billion of ETNs tracking foreign stocks in 2014, while pulling $300 million from products tracking local shares.
"Let's just say, the way things look, I don't think I'll be worried about job security for a while," Dmitry Jidkich, the head of the international desk at Petach Tikva, Israel-based KSM Excellence Nessuah, which manages $9 billion, said in an interview on April 5. He oversees the country's best-performing ETN this year, returning 63 percent, according to data compiled by Bloomberg. "More money comes to pension managers than they can invest in Israel and a large part of this is passively invested in global indexes."
Israeli institutions including insurance companies and pension funds held $74 billion, or about 24 percent, of their assets overseas at the end of last year, the highest proportion on record and the sixth consecutive annual increase, according to the latest data available from the Bank of Israel.
'1,001 Risks'
While an ETN tracks an index the same way an ETF does, companies offering them are obliged to return the exact yield of the tracked asset. ETFs provide what is known as a best effort, or a return approximate to the performance of the underlying asset. Israeli rules mean funds must use ETNs, Segal said.
Israeli notes still represent a fraction of the $3 trillion global market for exchange-traded products. The combined total of all of the country's ETNs amount to less than each of the top six U.S.-traded funds, according to data compiled by Bloomberg. State Street Bank and Trust Company's S&P 500 ETF alone is valued at $181 billion.
Investors have been starved of returns in Israel, with bonds yielding near the lowest on record and the TA-25 Index trading close to a high. Since MSCI promoted the market, trading volumes have slumped as the exchange competes with countries including the U.S., the U.K. and Japan for investor attention.
"Israel is a small country with 1,001 risks," Jidkich said. "Money is going to continue to be reallocated abroad."
Before it's here, it's on the Bloomberg Terminal.
LEARN MORE