Russia Rules Out QE, Vows Rate Cuts If Inflation Risks Wane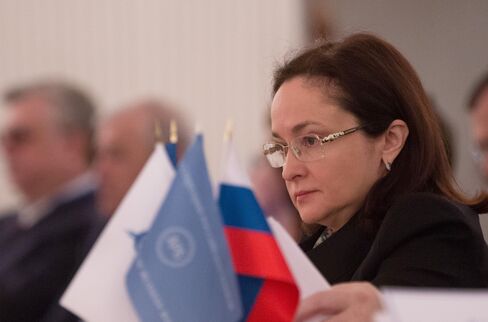 Russia's central bank will abstain from quantitative easing and rely on interest rates to boost the recession-bound economy, Governor Elvira Nabiullina said.
The central bank will continue to reduce its benchmark rate, now at 14 percent, if inflation risks continue to abate, Nabiullina said at the annual meeting of the Association of Russian Banks. The association, which counts 80 percent of the country's lenders as members, had proposed a quantitative easing program to help the economy, which is suffering under U.S. and EU sanctions over Ukraine and a decline in oil prices.
"There's no reason to expect QE from us -- our main instrument is the key rate," Nabiullina said Tuesday. "I understand the sincere wish both to make loans more accessible and to spur economic growth. I understand these goals but believe that the recipes used by many countries won't work and will have the opposite effect in the conditions of our Russian economy."
The Bank of Russia is forging ahead with monetary easing after two rate cuts this year followed six increases in 2014, including an emergency move to 17 percent in December. Tighter policy had a stabilizing effect, countering inflation and devaluation expectations and helping ward off the "scenario of stagflation," according to Nabiullina.
"With the easing of inflationary risks, the Bank of Russia will continue to decrease the key rate," she said. "We don't intend to reduce inflation at any cost, but will do it considering the capabilities of the Russian economy."
Derivatives traders see borrowing costs falling. The three-month MosPrime rate, which large Moscow banks say they charge one another for ruble deposits, may drop 160 basis points in the next three months, forward-rate agreements compiled by Bloomberg show. That compares with 140 basis points of decreases seen on March 13, when the central bank last cut rates.
'Strategic Path'
"Our strategic path is a stabilization and a decrease of inflation, and -- on that basis -- a reduction of the key rate," Nabiullina said. "Using QE measures under the conditions of high inflation and a rather stable level of employment may lead to capital outflow and additional inflation."
Major central banks including the Bank of England and the Bank of Japan have embarked on unprecedented stimulus programs to rev up economic growth and prices. The European Central Bank has completed its first month of large-scale asset purchases as part of its 1.1 trillion-euro ($1.2 trillion) bond-buying program.
The ruble has turned a corner after last year's 46 percent slump, notching the strongest performance among emerging markets this year with a 10 percent gain against the dollar. It traded 0.4 percent stronger at 55.25 to the U.S. currency as of 2:28 p.m. in Moscow.
Unwinding Measures
"I expect the Bank of Russia to unwind the tightening measures implemented throughout last year and cut interest rates by at least 100 basis points per meeting this year," Piotr Matys, a London-based foreign-exchange strategist at Rabobank International, said by e-mail."Assuming that inflation expectations improve and, perhaps far more importantly, that the ruble is relatively stable."
Consumer-price growth accelerated to 16.9 percent from a year earlier in March, compared with 16.7 percent in February, the Federal Statistics Service said Monday. The economy has eclipsed inflation as the nation's top concern, according to a survey published the state-run All-Russia Center for the Study of Public Opinion on March 31.
The central bank sees growth contracting as much as 4 percent this year after a 0.6 percent expansion in 2014. That was the slowest pace since a slump in 2009 after sanctions imposed by the U.S. and the European Union over the conflict in Ukraine cut off access to international markets and stoked capital outflows, pushing Russia to the brink of recession.
"We expect a fairly rapid decline in inflation, if there are no new unforeseen circumstances," Nabiullina said. Price growth is set to slow to about 9 percent next March, she said, saying it's "realistic" to reach the central bank's medium-term inflation target of 4 percent in 2017.
Before it's here, it's on the Bloomberg Terminal.
LEARN MORE