Rousseff Picks Brazil's Vice President to Rebuild Her Coalition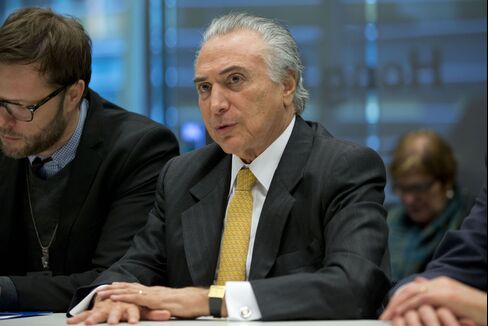 Brazil's President Dilma Rousseff designated Vice President Michel Temer as her lead political negotiator with Congress as she seeks to rebuild a fractured coalition and keep her administration's economic stability plan on track.
Temer, who is also the party chief of Rousseff's biggest coalition partner, will take over the responsibilities of the dismantled Institutional Relations Office, according to a statement e-mailed by the presidency's press office Tuesday. Former Institutional Relations Minister Pepe Vargas belongs to Rousseff's Workers' Party.
"Temer is a negotiator," Andre Cesar, an independent political analyst, said by phone from Brasilia. "If there is anybody that can conduct with the necessary urgency the approval of the fiscal adjustment, this person is him."
The real has weakened the most among major currencies this year as Rousseff attempts to implement economic measures that seek to narrow the widest budget deficit in more than 15 years. Rousseff needs support from her allies, including Temer's Brazilian Democratic Movement Party, or PMDB, to win congressional approval of two proposals worth about 23 billion reais ($7.3 billion) in tax increases and social benefit cuts. That's equivalent to about 35 percent of this year's fiscal target.
"The political crisis is bigger than the economic crisis," Senator Romero Juca from the PMDB said in an interview before Temer's appointment. "There won't be an economic adjustment without political equilibrium."
The ruling Workers' Party had its first major political defeat of Rousseff's second term Feb. 1 when its candidate to lead the lower house of Congress lost to Eduardo Cunha, a member of the Brazilian Democratic Movement Party, or PMDB. Cunha won using the slogan "Independent Lower House," in a message directed at the president.
The head of the Senate, Renan Calheiros, has also been at the center of defeats for the government. Also a PMDB member, he rejected a presidential decree that could fast-track an increase in taxes, forcing the government to present a bill that would take longer to approve.
Temer's new role strengthens the government, Andre Perfeito, chief economist at Gradual Investimentos, said in a phone interview from Sao Paulo. "It's a good development."
Before it's here, it's on the Bloomberg Terminal.
LEARN MORE