Romanee-Conti, Swatch, Vase Earn Sotheby's $357 Million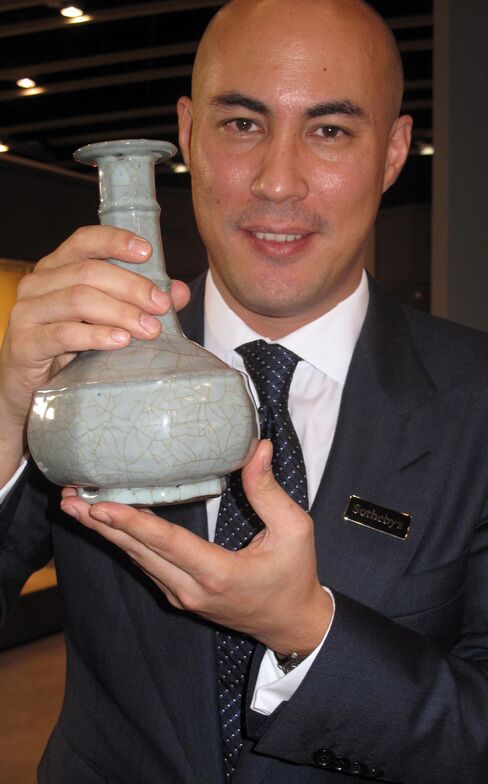 A collection of 5,800 Swatch timepieces, a rare Song Dynasty vase and bottles of Romanee-Conti led Sotheby's HK$2.7 billion ($347 million) sale in Hong Kong, according to results on its website.
The highlight of the spring sales was the HK$114 million paid for the vase by Chinese billionaire Liu Yiqian, almost twice its estimate of HK$60 million. Liu, who has spent more than $115 million buying art at auction in the past 12 months for his Shanghai Long Museum, outlasted seven other bidders.
"There was definitely no sign of China's austerity campaign today," said art dealer James Hennessy after the auction. "But it's not foolish money."
Yet the four-day sale that ended Tuesday was marked by uneven results. All of the wine lots sold, bidding for Chinese ceramics was enthusiastic while jewelry and contemporary Chinese art sales were tepid.
Demand for top Burgundies was also strong at the single-owner wine sale led by a six-bottle offering of Romanee-Conti 1990 Domaine de la Romanee-Conti that fetched HK$1.23 million, or HK$204,000 per bottle.
Another auction highlight was the HK$46.7 million paid by a European institution by phone for a collection of 5,800 Swatches belonging to Paul Dunkel, a 68-year-old from Luxembourg, on Tuesday.
Five Minutes
The retired insurance broker, who built his collection beginning in 1983, patted his chest and sighed after the gavel went down after the winning bid.
"All those years I put it together and it was over in five minutes," he said.
His collection also included 19 maxi Swatches and several Swatch-related artworks including a piece by Keith Haring.
Dunkel said he stopped collecting in 2007 because he had run out of space in his house and decided to put the entire collection up for sale as his children weren't interested in inheriting it.
"Now I can give them the money," he said, adding "I don't need it, I have a house and a good pension."
Contemporary Art
The mood was more subdued at the evening sale of modern and contemporary art on April 4 as Asian buyers are increasingly becoming selective. Works by Zeng Fanzhi, Zhang Xiaogang and Yue Minjun, Chinese contemporary artists whose paintings routinely sold at multiples of their estimates several years ago, didn't find buyers willing to pay above their reserve prices.
Still, the sale also saw new records set when Indonesian artist Hendra Gunawan's oil on canvas fetched HK$26.5 million and a painting by Adrien-Jean Le Mayeur de Merpres sold for HK$20.5 million.
On April 6, almost one third of the 317 lots at the jewelry and jadeite sale went unsold, including the top lot, a 77.77 carat vivid yellow diamond ring with an estimate of HK$53 to HK$58 million.
Last year's Sotheby's spring sale lasted five days and raised HK$3.42 billion.
Before it's here, it's on the Bloomberg Terminal.
LEARN MORE