RBA Keeps Easing Bias as Rates Held Steady for Second Month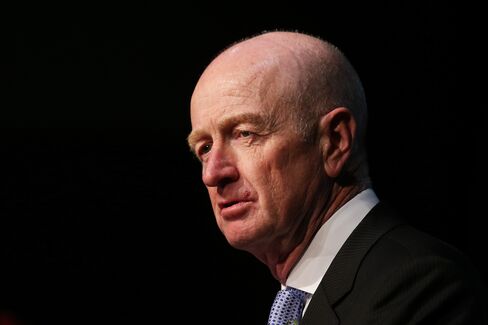 Australia's central bank said for a second month it could ease policy at future meetings after keeping interest rates unchanged at a record low as the economy grapples with tumbling commodity prices.
The overnight cash target was held at 2.25 percent, Reserve Bank of Australia Governor Glenn Stevens said in a statement Tuesday following a board meeting in Sydney. The decision wrong-footed markets and was predicted by 17 of 30 economists surveyed.
Stevens is keeping his remaining policy powder dry as the central bank waits for data that will indicate how much of a boost its February rate cut has given the economy. By holding off on further easing, he's avoiding encouraging a rampant Sydney property market.
"The key development of lower iron ore, commodity prices will ultimately push them to deliver some more easing, most likely in May," said Su-Lin Ong, head of Australian economic and fixed-income strategy at Royal Bank of Canada in Sydney. They are "waiting to see the impact of their most recent cut and probably wanting to stretch out their easing as much as they can given rates are down at historic lows."
The Australian dollar rose immediately before the decision and was quoted at 77.03 U.S. cents at 3:39 p.m. in Sydney from 76.09 cents in the minutes before the announcement.
"Further easing of policy may be appropriate over the period ahead, in order to foster sustainable growth in demand and inflation consistent with the target," Stevens said in the statement. "The board will continue to assess the case for such action at forthcoming meetings."
Property Prices
Low rates have helped increase Sydney property prices by almost 40 percent from a trough in May 2012. Australian regulators are trying to slow growth in loans to investors, who have been driving the real estate market, and ensure lending standards don't slip.
Tuesday's decision is the first time in at least eight years that traders' bets on the meeting outcome were wrong while the median forecast of economists was correct, according to data compiled by Bloomberg.
The Australian dollar has fallen from about 95 U.S. cents in the middle of last year, boosting the competitiveness of local industries. The RBA said in its statement that an even lower exchange rate "is likely needed to achieve balanced growth."
Iron ore, which accounts for about A$1 in A$5 of Australia's export income, plunged to a 10-year low last week. China, Australia's biggest trading partner, lowered its economic growth target for 2015 to 7 percent and iron ore supply is increasing.
Market Share
Ore with 62 percent content at Qingdao was at $47.08 a dry ton on Monday, unchanged from Thursday, according to Metal Bulletin Ltd. That's the lowest level since 2005, based on daily and weekly data from Metal Bulletin and annual benchmarks compiled by Clarkson Plc, the world's largest shipbroker.
While producers could curtail output to boost the metal's price, the biggest -- Vale SA, Rio Tinto Group and BHP Billiton Ltd. -- are sticking to their guns to protect market share.
Australia is on track to record an economic expansion below its potential rate of 3 percent for six of the past seven years, the longest stretch since the nation's last recession in 1991.
The central bank said growth in domestic demand is quite weak and the economy will likely operate with spare capacity for some time.
"The rate cut is on the way but we're going to have to wait until May for it," Daniel Blake, a Sydney-based strategist at Morgan Stanley, said in a phone interview. The RBA wanted to wait another month to give a "digestion period between rate cuts and time to assess the impact" of the last move, he said.
Before it's here, it's on the Bloomberg Terminal.
LEARN MORE