Petrobras Probe Spurs Regulatory Fight on Leniency for Suppliers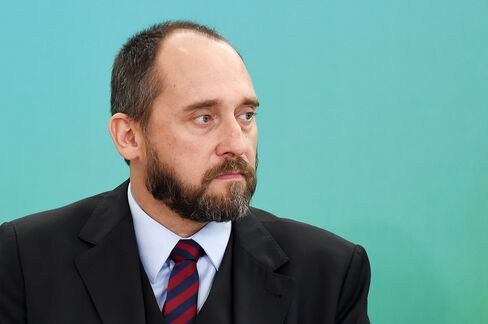 Brazil's Attorney General says fighting among federal agencies threatens to deepen damage from a historic corruption scandal.
Federal prosecutors disagree with other regulators on how to negotiate so-called leniency accords with companies accused of paying bribes to win contracts with state-run oil producer Petroleo Brasileiro SA, Attorney General Luis Inacio Adams said in an interview. Some prosecutors in charge of the criminal investigation are "proactive in the wrong way" as they go after companies with little regard to economic consequences, he said.
"Of course companies need to be punished," Adams said Monday at his office in Brasilia. "They have to go through a process that's perhaps traumatic to recover from. But that traumatic process shouldn't necessarily mean the death of the company."
A new anti-corruption law gives the government the right to strike leniency deals that typically require an admission of wrongdoing, full repayment of damages, cooperation with the investigation and compliance measures. Still, there's no legal precedent for such accords that are seen as the first step toward allowing state banks to resume lending to companies locked out of credit markets, Adams said.
Economic Consequences
As many as seven companies, including OAS SA and Galvao Engenharia SA, are already negotiating leniency agreements with Brazil's comptroller-general, according to Julio Marcelo de Oliveira, a prosecutor in Brazil's audit court. He argues that companies should have to strike a deal with police before having the option to seek leniency accords to guarantee access to future government contracts and public financing.
"Punishing these companies does have economic consequences, but the cost of not punishing them is much higher," Oliveira said in an interview in his office in Brasilia. "If Brazil has to go through two or three bad years to have an environment where companies can have confidence in the competitive process, it'll be much better for the development of the country."
Construction firms accused in the scandal hold contracts for infrastructure work across Brazil, including projects for the 2016 Olympic Games in Rio de Janeiro, Adams said. He said he "absolutely disagrees" with prosecutor actions to strangle these companies in the name of fighting corruption.
Stop-Gap Measures
OAS and Galvao Engenharia, among the Brazilian builders that allegedly participated in a cartel to manipulate contracts with Petrobras, both cited credit restrictions when they filed for bankruptcy protection last month.
Galvao and OAS declined to comment by e-mail.
A creditor for oil-rig supplier Sete Brasil Participacoes SA said banks are stitching together stop-gap measures to keep the company operating as the scandal delays a state-bank loan. Banco Bradesco SA Chief Executive Officer Luiz Carlos Trabuco Cappi told reporters Monday in Sao Paulo that Petrobras and banks are close to reaching an accord to roll over Sete's debt for 90 days.
Sete Brasil's former chief operating officer, Pedro Barusco, testified late last year that he accepted bribes in exchange for awarding contracts to build rigs for Petrobras. The accusations coupled with spending cuts at Petrobras, Sete Brasil's only client, have delayed the disbursement of the first part of a $3.1 billion loan from development bank BNDES, according to prosecutor Oliveira.
Suspended Loan
He asked Brazil's audit court last month to suspend the loan, arguing that the state bank's rules prohibit it from lending money based on a business plan that's no longer accurate.
"Sete Brasil isn't going to survive," Oliveira said in a phone interview from Brasilia. "The question is if it'll be with more or less public money."
Adams disagrees. He sent a report to BNDES in December saying there's no legal reason to withhold loans to companies involved in the investigation, including Sete Brasil. He said the audit court, known as the TCU, doesn't have the authority to tell the BNDES to cut off credit lines.
Sete Brasil said in an e-mail that it's not pursuing a leniency accord because the allegations relate to a former employee and have not been made against the company. Only the BNDES can explain why the loan is delayed, the company said.
Credit Line
Schahin Petroleo & Gas SA, a rig and platform supplier to Brazil's state-run producer, is also seeking a credit line to avoid filing for bankruptcy protection, said two people familiar with the matter. Schahin Engenharia SA, which is part of the same holding group, is among more than 20 companies that have been temporarily banned from bidding on new Petrobras projects because of the scandal, according to a regulatory filing. Schahin has denied any wrongdoing and declined to comment on speculation about a bankruptcy filing.
Schahin is temporarily shutting down five rigs it has with Petrobras, according to an e-mailed response to questions from Petrobras.
The outstanding $651.5 million in notes issued by Schahin II Finance Co., part of the oil and gas subsidiary, have lost 20 cents this week to 40.5 cents on the dollar.
As the scandal spreads from the state-run oil producer to builders and suppliers, economists have cut their GDP forecasts 14 weeks in a row, according to a central bank survey published Monday in Brasilia. Economists now expect the economy to contract 1.01 percent this year.
Before it's here, it's on the Bloomberg Terminal.
LEARN MORE