Two chic, gray-haired women in quilted jackets and silk scarves, wearing diamond tennis bracelets and equally sparkly watches, lean in so their foreheads nearly touch.
"He's ashamed of her!"
"Embarrassed."
"Sure, let's say embarrassed."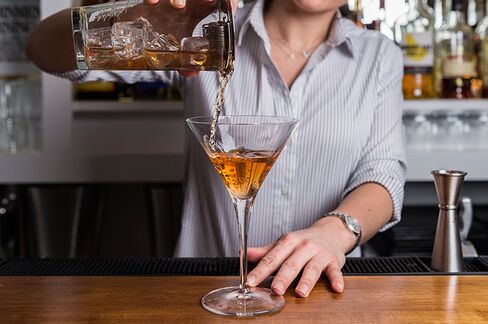 Monte Carlo is a sleek new restaurant on 78th Street, a place for rustic French food and confabs among old friends. Many of these appear to be sleek divorcees and widows in their seventies, hands clicking with big, expensive jewelry. There are Upper East Side couples having dinner, too—age appropriate ones. (Which is a way of saying: This is not the sort of restaurant to meet your lover for dinner.) Monte Carlo is an elegant little neighborhood restaurant, a place worth paying attention to because it will serve long after the opening buzz has worn off, satisfying locals with steaks, salads, and wine by the bottle, getting to know everyone who comes in by name. It is the anti-scene.
The restaurant is barely decorated at all, and it's so quiet—soft music, or sometimes none, just the rumbling of voices—with mellow lighting and white-draped tables squashed close together. Very close. When the man sitting next to me leaned down to pick up his walking stick, he swiped my butter dish with his fuzzy ear.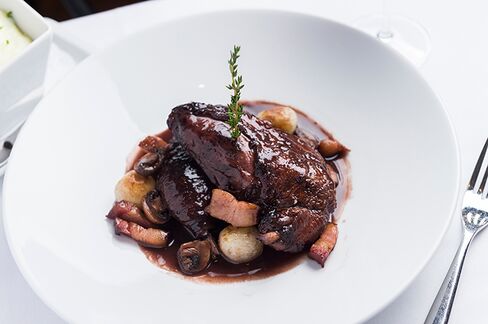 The menu is trend-averse, the kind that features a completely un-ironic vol-au-vent, the savory French pastry with a very bad reputation. The classic has been ruined by caterers who continue to pass around tasteless, miniaturized versions oozing with starchy cream sauces. The real deal, popularized in the 18th century by French chef Marie-Antoine Carême, was something else: an impressive, sound structure, often big enough to share, filled with luxurious cuts of meat and vegetables, and bound with a proper, carefully calibrated sauce.
Monte Carlo's lobster vol-au-vent is a little closer to the old school, a lidded jewelry box of fresh puff pastry with claws, tail meat, and mushrooms. There's a flood of dark, salty lobster sauce and two soft white quenelles of poached pike mousse, which taste the way I imagine clouds floating over the sea to taste—cool, faintly fishy wisps. It's a pity there's not enough sauce for them, and the lobster meat can be overcooked so it goes a bit tight and fibrous.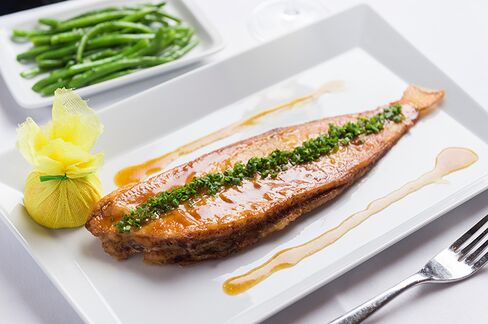 Owner Alexandra Pollet is a consistently charming and welcoming host with an energetic presence, zipping across the room to chat or take a drink order. She opened the restaurant in January and seems to take pleasure in getting to know her regulars. One is talking very loudly into his flip phone right now. "Yeah, I'm at the table." "No, I don't give a damn." Later, when Pollet mentions her hometown of Marseille, he raises his voice. "But it's so dangerous there, with all the immigrants." Pollet smiles politely and changes the subject with ease.
Pollet grew up in the south of France, visiting family friends each summer just outside of Monte Carlo. She moved to New York 15 years ago to manage a restaurant in the Waldorf Astoria. The most visible trace of those summers in Monte Carlo comes in the form of Monaco's barbajuans, fried pastries filled simply with wilted greens and onion, here shrunk down to be pretty and presented in a folded napkin. They look more like ravioli: small, square, and thinly inflated. The filling is so smooth it's like a paste of chlorophyll, purely and almost blandly green-tasting. (Was there really any ricotta and parmesan in there, as the menu suggested?) The salmon rillettes with tiny toasts were pink, persistently smooth, and abstractly fishy—what you might feed a cat you love very, very much.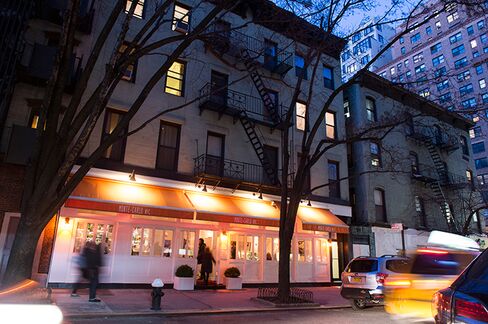 The pork terrine is nothing fancy, but it's a much better way to start a meal. The meat is roughly textured under a thin layer of fat and served with sharp mustard and crusty bread. Coq au vin, rarely seen on contemporary New York restaurant menus, is wine-dark, as it should be. The sauce is pleasingly sour; its depth is tangy and bright, with chewy pieces of pork belly and whole onions braised in the sauce. The meat is tender, yet still holding together, not stewed to a stringy death. It arrives with a side of mashed potato, as dense as mashed potatoes from an earlier era, the kind that seemed to operate with its own law of gravity. It's a nice, home-style version of the dish, rustic but good, and it feels a little odd to eat it over a white tablecloth.
The hanger steak involves a plate flooded with smoky green peppercorn sauce and two tiny piles: thick, tender French fries and a mound of wilted greens. It's well executed, no fuss, as a bistro steak should be. But the small portions all around, from the sliced meat to the sprinkling of French fries, feels rather stingy. There's a similar letdown with the Dover sole in lemon butter sauce. A $55 entree must be spectacular—or feed several people—to get away with the price tag, and the one at Monte Carlo doesn't manage to do either. On one occasion, it was so heavily dredged in flour that the fish was encased in a thin, dark layer, as if the whole thing had been battered and fried. This would be fine if the menu weren't promising a classic sole meunière, but it does. It seems a shame to fly in Dover sole every day from Normandy and not treat it with a little more care.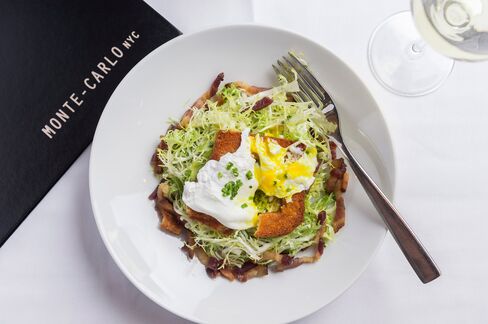 Despite these issues, the restaurant attracts the neighborhood's French community for casual dinners and weekend brunching, and you're just as likely to hear French, or French-accented English, as English. No one seems to mind about the food not being perfect, but they note the prices. The women beside me loosened their silk scarves over the course of the evening, and after polishing off an apple tart—a frisbee of pastry and thinly sliced apples, extremely simple and delicious, though difficult to cut with a regular knife—they looked over the handwritten bill.
"Oh look at that, it's very expensive!"
"It's a little pricy."
"Sure, let's say pricy."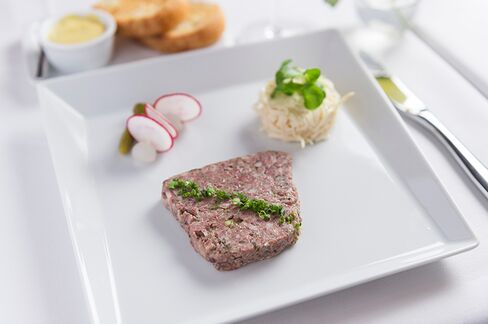 Tejal Rao is the New York food critic for Bloomberg. Follow her on Twitter at @tejalrao and Instagram @tejalra or contact her at trao9@bloomberg.net.
Monte Carlo is at 181 East 78th Street (Upper East Side); +1 646 863-3465 or monte-carlo.nyc
Rating: 1/4 Stars (Good)
What to Order: Hanger Steak ($30); Coq au vin ($26); Roast chicken ($26); Mussels Mariniere ($21); Frisee aux lardons($15); Country terrine ($15); Apple galette ($10)
Who's Next to You: Polished, French-speaking septuagenarian couples and their grown children; various New York chapters of The First Wives Club.
Soundtrack: Fairly juicy gossip spoken in hushed tones.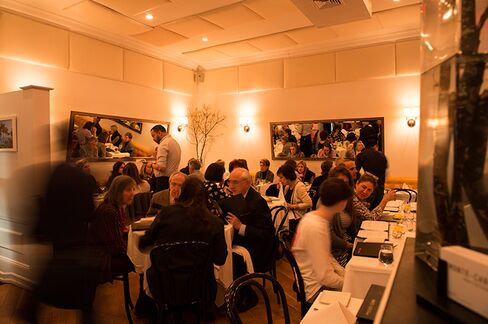 Before it's here, it's on the Bloomberg Terminal.
LEARN MORE