Japan Must Shut Out Short-Term Investors, Orix Founder Says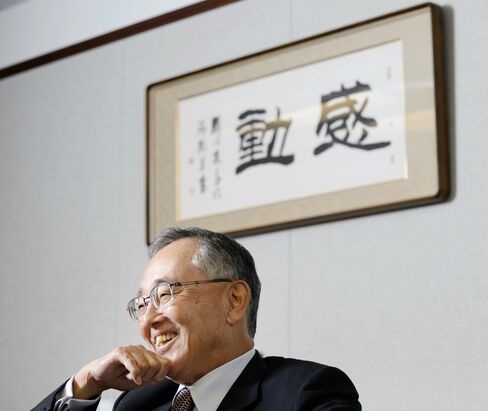 Yoshihiko Miyauchi, who ran Orix Corp. for more than 30 years, says Japan must discriminate against short-term shareholders.
The nation should allow listed firms to strip voting rights from institutions that haven't held shares for a certain time, according to the 79-year-old, who co-founded the $19.3 billion financial group in 1964 and is now its senior chairman. He suggested a period of about three years. Such an approach would be unprecedented in global developed equity markets.
Miyauchi sees shutting out some stock owners as the next stage in Prime Minister Shinzo Abe's efforts to get companies and investors to work more closely together. A government report on Japan's financial markets, published last year, takes aim at everyone from fund managers to executives and equity analysts for their short-term focus. Governance advocates acknowledge the problem and disagree with Miyauchi on how to fix it, saying a three-year standdown on voting rights is too long.
"Some institutional investors buy today and sell tomorrow," said Miyauchi, who is also chairman of the Japan Association of Corporate Directors. "They say 'give us dividends,' or 'buy back shares,' or 'will your second-quarter results be better than the first quarter?' Management should protect companies from these stupid shareholders."
Japan started stewardship rules in 2014, designed to make more investors press companies for higher returns. It's introducing a code for companies in June, intended to guide executives and equity owners on how firms should be run.
Ito Review
The average shareholding period in Japan dropped from four years in the 1990s to less than 12 months in the 2000s, according to a study cited in the Ito review, a government-sponsored attempt to diagnose shortcomings in Japan's markets and prescribe remedies. The report says the market is skewed toward short-termism, while noting there's more to this than holding periods: It's also about how investors make decisions.
Nicholas Benes, representative director of The Board Director Training Institute of Japan, points to pension funds. Although among the most long-term of investors, the nation's retirement funds give their money to asset managers and assess them on short-term returns. That skews how they interact with company executives, with the focus on boosting earnings each quarter, he says.
"It's pension-fund capitalism," Miyauchi says. "It's a big problem."
Then there are the activists, some of whom are returning to Japan as the stock market almost doubles under Abe. In the most high-profile recent examples, U.S. billionaire Daniel Loeb started to press the robot-maker Fanuc Corp. for more returns and better communication with shareholders. Hong Kong-based Oasis Management, which called for the changes unveiled last month by Nintendo Co., is turning its attention to Kyocera Corp. and Canon Inc.
Activist Arrival
While declining to comment on Fanuc, Miyauchi says he welcomes activist shareholders in some cases, when their pressure can help change companies with extreme strategies. For businesses that keep some cash on the balance sheet as a buffer against bad times, he says he's not so sure the activists have anything to offer.
Giving rights to equity owners based on how long they've held stock has precedence in Japan. To call an extraordinary meeting of shareholders, investors must have held shares for at least six months. The same per applies for submitting proposals at the annual meeting.
Still, it would be illegal to take voting rights from some holders of common stock, according to Miyauchi.
"You'd have to change the law or do it through issuing different classes of shares," he says.
New, Old
Benes says every shareholder was a new owner once. He sees financial rewards for long-term holdings as a better solution.
Restricting rights is a cure that is considered worse than the disease, and a three-year period would be too long, according to Bruce Aronson, a professor of law specializing in corporate governance at Hitotsubashi University in Tokyo.
"Investors are entitled to a return, and if they don't like it, they can do several things, one of which is to sell," Aronson says. "This almost sounds like getting closer to a restriction on selling."
After a career spent dealing with institutional investors at Orix, Miyauchi says he knows where he stands.
"Companies shouldn't think short-term shareholders are their masters," he says. "If we just listen to what they say, companies will go to the dogs."
Before it's here, it's on the Bloomberg Terminal.
LEARN MORE