How Samsung Is Using the S6 to Challenge Apple's IPhone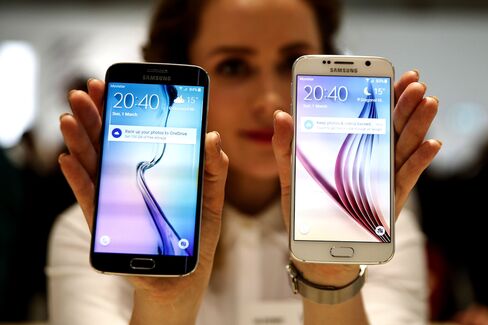 Samsung Electronics Co.'s S6 smartphones debuting Friday are raising analyst expectations for the first profit gain in six quarters as the company battles Apple Inc. for leadership in the global mobile market.
Operating income will jump to more than 8 trillion won ($7.4 billion) in the three months ending June, the first gain since 2013, according to estimates from IBK Securities Co. and HMC Investment Securities Co. After first-quarter earnings released Tuesday beat expectations, five other analysts said they also planned to raise profit projections.
Samsung is counting on new designs to lure users willing to pay more for the latest features and win back customers from Apple, which chose Friday to start selling its first smartwatch. The Galaxy S6 models, including a more expensive version with a multisided display, will help restore margins battered by competition with lower-cost makers in China and India, said Lee Seung Woo, an analyst at IBK.
"Samsung will make a killing from a significant rise in margins from the pricier S6 Edge," said Lee. "Profit at its mobile business may nearly double in the second quarter."
Buzz about the S6 has helped fuel a rally in Samsung shares, adding about $16 billion to the company's market value since March 1, when the phones were unveiled.
The stock rose 1.2 percent to 1,479,000 won at the close of trade in Seoul, bringing its gain since Samsung unveiled the phones on March 1 to 9 percent.
Higher Margins
Operating income fell 31 percent to 5.9 trillion won in the three months ended March, according to the Suwon, South Korea-based company. The result beat the 5.5 trillion won average of 36 analyst estimates compiled by Bloomberg. Sales declined 12 percent to 47 trillion won, Samsung said Tuesday.
Samsung's operating margin rose to 12.6 percent in the first quarter, the highest in three quarters.
The company's margin is likely to benefit as the proportion of high-end smartphones in its sale mix rises above 30 percent, Sundeep Bajikar, an analyst at Jefferies Group LLC, said in a note.
Samsung didn't provide net income or details of divisional earnings. Audited results are scheduled for later this month.
Samsung second-quarter operating income will probably be 7.5 trillion won, based on the average of 6 analyst estimates compiled by Bloomberg since Tuesday's earnings. The company had profit of 7.2 trillion won in the year earlier.
Marketing Spend
"We are going back to a time where Samsung's strong sales of smartphones will help boost profits at its component businesses," said Greg Roh, a Seoul-based analyst at HMC Investment. "Second-quarter results will be a lot higher, largely helped by S6 smartphones."
Roh expects Samsung to ship a combined 50.3 million units of the S6 and S6 Edge by year end.
First-quarter operating income at the mobile unit probably fell to 2.3 trillion won on sales of 27.1 trillion won, according to the median estimate of five analysts surveyed by Bloomberg News.
Samsung probably shipped 81 million smartphones worldwide in the first three months of 2015, rising 7 percent from the fourth quarter, Daewoo Securities said in a March 27 report.
Despite slower sales of premium smartphones, demand for cheaper Galaxy models combined with reduced marketing expenses during the quarter probably helped slow the unit's slide.
Chip Demand
Earnings from the semiconductor unit, which supplies memory and processor chips to Apple and other mobile device makers, was about 2.7 trillion won in the first quarter on sales of 11.1 trillion won, according to the analyst survey.
Samsung will make the main chip in the next iPhone model, regaining a customer previously lost to Taiwan Semiconductor Manufacturing Co., people with direct knowledge of the matter said this month.
"Market excitement over the S6 Edge model seems a lot louder than the flat model and it's questionable if Samsung can make enough curved displays to meet high demand," said Claire Kyung Min Kim, a Seoul-based analyst at Daishin Securities Co. "The Edge device will further widen its gap with other Android phone makers."
Before it's here, it's on the Bloomberg Terminal.
LEARN MORE