The current generation of business school students is less parochial, less interested in prestige, and more entrepreneurial than ever, at least in spirit, a new report shows.
On Tuesday, the Graduate Management Admission Council released a survey of almost 12,000 prospective business school students across the world. The students surveyed were all people who got an account on mba.com, the GMAC website on which students register to take the Graduate Management Admission Test.
Below, find the most surprising things we know about the ambition, anxieties, and obsessions of these would-be-business students, based on GMAC's new data and Bloomberg's own survey of MBAs.
1. They really want to be entrepreneurs. They probably won't be.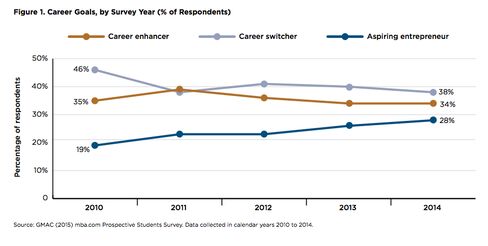 Among the people who took GMAC's survey, 28 percent said they wanted to start their own businesses, up from 19 percent in 2010. Bloomberg data show that by the time they graduate, that do-it-yourself enthusiasm often wanes. Only 3.5 percent of the nearly 10,000 MBA candidates Bloomberg surveyed in 2014 said they were planning to become entrepreneurs.
2. They don't care about rankings, except when they do.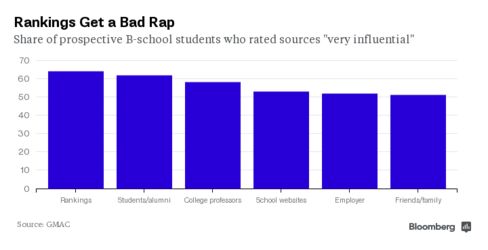 When prospective MBAs were asked to list the five factors most likely to make them choose one school over another, "rankings didn't rank," GMAC wrote in a press release. People who wanted to go to school in their home country cared most about what kind of degree they would be graduating with—an MBA vs. a master's in finance, for example. People looking to leave home valued the caliber of faculty above all. Nobody said rankings mattered enough to make the list.
But it isn't as if they were totally unmoved by a school's status. Rankings were rated the most influential source of information about schools, beating out current students, college professors, and school websites.
3. They are more internationally focused than ever.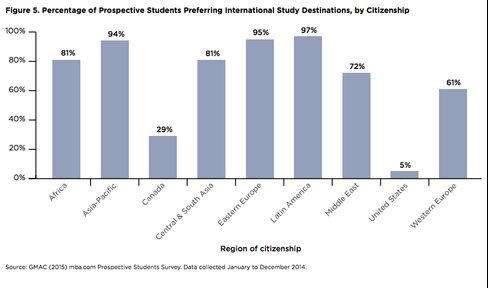 Fifty-two percent of the people polled said they wanted to go to a school outside their country of citizenship, a steep increase from five years ago, when just 40 percent said the same. Americans were the most insular of any nationality of respondent—only 5 percent said they were looking to study abroad—perhaps because the top business school destination for all countries is the U.S.
4. They want to use business school to escape their jobs.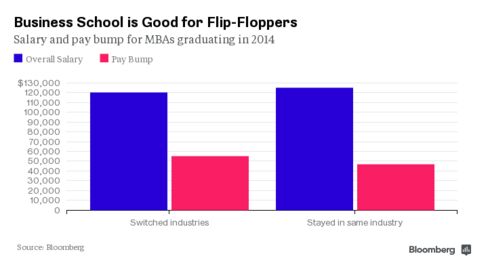 People were more likely see a business degree as a ticket to a new career than as a way to reach new levels within their industry or start a company, according to GMAC.
Our data suggest that's a smart way of thinking about an MBA program, if you're interested in money. People graduating from business school in 2014 who switched industries earned a lower salary overall than people who stayed in their fields, but switchers saw bigger pay increases from their pre-MBA salaries than the stayers did. Those who took entirely new jobs netted a median $55,000 more than when they started business school, while those who went back to familiar grounds got a $47,000 bump, according to Bloomberg's survey of 6,400 second-year MBAs who landed jobs by April 2014.
Before it's here, it's on the Bloomberg Terminal.
LEARN MORE