Duke Wins Fifth NCAA Basketball Title by Beating Wisconsin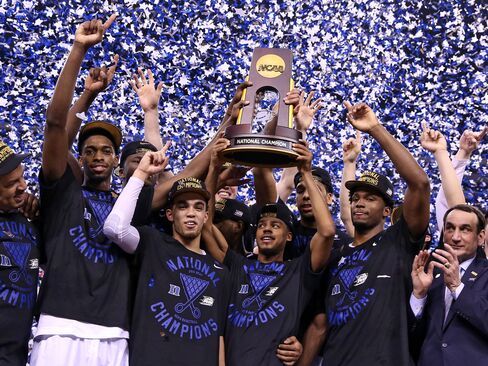 Duke University's youth won out over Wisconsin's experience to give the Blue Devils their fifth men's college basketball national championship.
Four freshmen combined for all 37 of Duke's points during the second half Monday night in Indianapolis as coach Mike Krzyzewski's team erased a nine-point deficit for a 68-63 victory. The win came two days after Wisconsin had knocked off top-ranked and previously unbeaten Kentucky.
With leading scorer Jahlil Okafor limited by foul trouble, freshman guards Tyus Jones and Grayson Allen combined to score 29 points for the Blue Devils over the final 20 minutes. With five national titles, Duke is now tied with Indiana and North Carolina for the third most in college basketball history behind only UCLA (11) and Kentucky (8).
"We were fabulous down the stretch," Krzyzewski said at a news conference. "I don't know how you could be any better than we were. It was great, great stuff."
The Blue Devils used a late 10-0 scoring run to turn a 58-56 deficit into a 66-58 lead.
Jones led Duke with 23 points, including 19 during the second half, and became the fifth freshman to be voted Most Outstanding Player of the Final Four. Allen added 16, including eight straight after the Blue Devils fell behind 48-39 with 13 1/2 minutes left.
"We were kind of dead in the water and Grayson just put us on his back," Krzyzewski said during the trophy presentation at center court. "Once he got us in striking distance, we just said, 'Tyus run the high-ball screen and be you.' That's good coaching, I guess."
35 Wins
Freshman forward Justise Winslow added 11 points and nine rebounds for the Blue Devils, who finished 35-4 and won 18 of their final 19 games this season, including all six during their postseason run at the National Collegiate Athletic Association tournament.
Wisconsin was led by 21 points and 12 rebounds from senior Frank Kaminsky, the national player of the year. Junior Sam Dekker was held to 12 points and missed all six of his 3-point attempts for the Badgers, who finished with a 36-4 record.
"They won't forget this for a long time," Wisconsin coach Bo Ryan said in his postgame news conference. "But you measure a person by what it takes to discourage them."
The teams were tied 31-31 after a first half that featured 13 lead changes. By comparison, Duke had a total of 11 lead changes during its first five NCAA tournament games this year.
It was the first tie at halftime of the championship game since 1988, when Kansas beat Oklahoma.
Foul Trouble
In the second half, Wisconsin opened a nine-point lead before Duke rallied with Okafor in foul trouble. It was the freshman guard combo of Jones and Allen that combined for 24 of the Blue Devils' 28 points during one stretch.
"My teammates really picked it up and they had my back," said Okafor, who picked up his fourth foul with just over nine minutes remaining. Okafor finished with 10 points, including a pair of layups after returning to the game with 3 1/2 minutes remaining that pushed the Blue Devils' lead to 63-58.
The title game featured the first matchup between a pair of No. 1 regional seeds since 2008.
Absent, though, was Kentucky, which had been favored by oddsmakers to win a ninth national championship and become the first school in 39 years to cap an unbeaten season with a title. The Wildcats set an NCAA record by starting 38-0 before their 71-64 loss to Wisconsin on Saturday.
Two of Wisconsin's four losses this season came against Duke, including an 80-70 defeat in December.
Krzyzewski's five titles are second only to the 10 won by former UCLA coach John Wooden. The Blue Devils also won titles in 1991, 1992, 2001 and 2010.
"Coach K, he wasn't focused on getting his fifth championship," said Duke senior guard Quinn Cook, who had six points. "He was focused on getting our first together."
Before it's here, it's on the Bloomberg Terminal.
LEARN MORE