Cut-Price Dollars Fuel Russia's World-Beating Bond Performance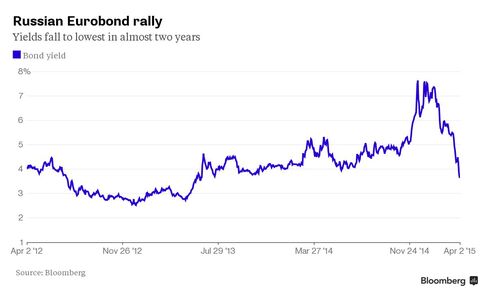 Russia is fueling the world's best bond-market rally by loading its banks with cut-price dollars.
The nation's debt in the U.S. currency has returned 12.1 percent this year, quadruple the global average for emerging markets. While the truce in Ukraine helped trigger initial gains, at least half of the bond buying now is from Russian lenders using central bank funding in dollars at 1.85 percent annual interest to buy bonds yielding as much as 5.77 percent, according to Alexey Tretyakov, a money manager at Moscow-based Aricapital Asset Management.
"The current situation on the Eurobond market looks abnormal, but it could remain so for several weeks," Alexander Kudrin, the head of research at Sberbank CIB in Moscow, said by e-mail on Tuesday. "Banks can continue to execute carry trades," he said, referring to the practice of borrowing where rates are low to buy higher-yielding assets elsewhere.
Central bank Governor Elvira Nabiullina began a $50 billion program in October to give lenders access to cash to repay external debt as U.S.-led sanctions over the conflict in Ukraine blocked their access to foreign capital markets. As companies overcame the biggest monthly repayment hurdles for the year, lenders directed some of the money to government Eurobonds, helping drive yields to the lowest since 2013.
The rate on Russia's notes due March 2030 has tumbled 2.83 percentage points in 2015 to 3.66 percent, supported by oil prices stabilizing above a six-year low and the two-month cease-fire in eastern Ukraine.
Shut Out
As Russian assets recovered, the ruble carry trade offered 17 percent returns this year. That's more than five times the carry for India's rupee, the second-best performer, according to data compiled by Bloomberg. The ruble rallied for a sixth day, adding 2.6 percent to 53.6510 as of 2:16 p.m. in Moscow.
The Bank of Russia started auctioning foreign-currency repos with one-week and 28-day maturities in October and added 12-month repos in November. Policy makers can offer the equivalent of as much as $50 billion through the facilities by the end of 2016. Russian companies have $14 billion of foreign debt to pay in April and May, less than half the amount that matured in the previous two months, according to central bank data.
'Artificial' Gains
The room for the sovereign bond rally to continue may be limited, according to Alexey Gubin, an analyst at Alfa-Capital asset management, who called the gains "artificial." Russian corporate bonds -- which handed investors a 13 percent return this year -- are "cheap compared with sovereign bonds," he said in e-mailed comments.
The Bank of Russia, meanwhile, made the carry trade less appealing by increasing the interest rates it charges for dollar repos by 50 basis points last month to the equivalent of the London interbank offered rate plus 1 percentage point.
The new rates aren't meant to encourage or discourage any banking activity, the regulator's press service said when asked if the move was aimed at dimming the appeal of carry wagers.
Banks still have scope to keep tapping the trade because there's about $16 billion left before the Bank of Russia reaches the ceiling for its foreign-exchange repo facility, according to Kudrin of Sberbank. Yields on the 2030 Eurobond fell 58 basis points this month.
"The cheap funding factor is at least 50 percent of this rally" in Eurobonds, Aricapital's Tretyakov said in e-mailed comments. "If it wasn't for the central bank funding, it would be difficult for locals to increase their portfolios."
Before it's here, it's on the Bloomberg Terminal.
LEARN MORE