Auctions for Failing Banks in Euro Toolbox, Koenig Says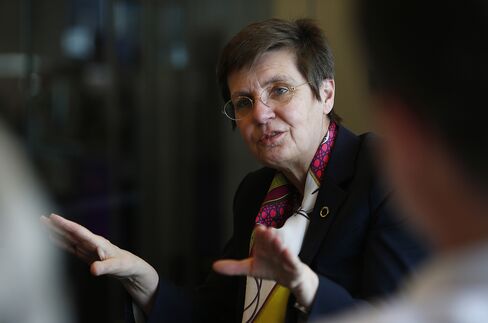 The euro area's new bank resolution agency may help find buyers for failing banks if private managers and national authorities need a helping hand, said Elke Koenig, chair of the Single Resolution Board.
Mergers won't be used as a quick fix for struggling lenders, Koenig said in an interview in her Brussels office. At the same time, the month-old agency will be able to seek out mergers when needed to handle a failing bank safely.
Koenig said she sees the SRB as a "facilitator" when it comes to merging or selling troubled banks, and she wants to "make people understand that it's their job to find the solution," otherwise national resolution authorities and the SRB "will have to auction it in one way or form."
The euro area's Single Resolution Mechanism is the latest piece of the EU's banking union project, following the European Central Bank's assumption last November of oversight powers for banks in the currency zone. After rescuing five euro countries during the debt crisis, the bloc has sought to tighten financial oversight and prevent another round of contagious crises that spread from sovereign nations to banks and back.
Private-sector management should take the lead in deciding a bank's fortunes, Koenig said. In countries like Germany, whose system makes use of private deposit insurance schemes, one approach may be the overhaul facing Duesseldorfer Hypothekenbank AG, the covered-bond issuer rescued by the BdB association of German commercial banks.
'Private Solution'
In that case, the bank association decided that "they take it over, they slice and dice it and run it off, which is a private solution because it's a private deposit guarantee scheme," Koenig said in the March 30 interview.
The former BaFin chief's new agency will use 2015 as a transition year, hiring about 120 workers on its way to a 300-strong staff by 2017. On Jan. 1, the SRB will start taking an active role in bank failures for institutions under its umbrella, and it will oversee the eight-year build-up of a 55 billion-euro ($59.8 billion) resolution fund.
The SRB will look to its U.S. counterpart, the Federal Deposit Insurance Corp., as a model for how to handle failing banks, particularly small and medium-sized institutions. The FDIC has a well-oiled system of preparing for sales of failing banks in order to match them with buyers quickly and minimize customer disruptions.
"We would, I think, do exactly the same" as conditions warrant, Koenig said. "We all consider them to be a bit of the role model for having that process."
National Borders
Because the SRB operates across national borders instead of U.S. state lines, and because there is no centralized deposit guarantee system, national authorities will play a big role alongside the euro-zone resolution agency.
Spain, home of the euro area's largest bank by market value, is pushing the European Union to remove obstacles to cross-border mergers of retail lenders. The European Commission should stop national regulators using discretionary powers to hamper tie-ups that strengthen the financial links between euro member states, Alvaro Nadal, chief economic adviser to Spanish Prime Minister Mariano Rajoy, said in an interview last month.
Consolidation may be needed, yet can't be a cure-all or a policy goal, Koenig said.
"My major concern is, mergers are one of the ideas you can talk about, but if you just merge two weak companies you don't get a strong company," Koenig said. "That's not a solution, that's just making the problem a bit bigger."
Europe is probably still overbanked and the financial sector may need to close some of its less efficient banks and bank offices, Koenig said. That means mergers will stay in her agency's toolbox, without becoming automatic for troubled institutions.
"I've a bit used a colorful expression for that," Koenig said. "If you combine two ugly ducks, you don't get a swan."
Before it's here, it's on the Bloomberg Terminal.
LEARN MORE