U.K. Bank Profitability Remains Below Crash Levels, KPMG Says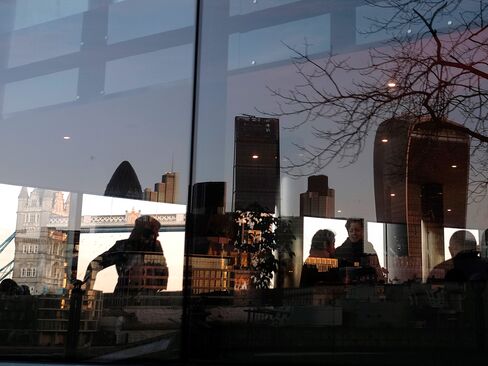 Five years after the financial crisis, profitability at the largest U.K. banks remains lower than in 2009 and bad loans higher, according to KPMG LLP.
Britain's five biggest lenders -- Royal Bank of Scotland Group Plc, Lloyds Banking Group Plc, HSBC Holdings Plc, Barclays Plc and Standard Chartered Plc -- posted a 62 percent annual gain in combined pretax profits in 2014, London-based KPMG said in a statement on Tuesday. But average return on equity, a measure of profitability, remained lower than in 2009.
"The banks are in a period of transition as they adapt their business plans to respond to the shifting regulatory landscape," Pamela McIntyre, KPMG's head of banking audit, said in the statement. "The long-term outlook is still uncertain, but our report reveals there's clear evidence of change."
Combined pretax profit was 20.6 billion pounds ($30.6 billion) in 2014 compared with 12.7 billion pounds a year earlier, according to KPMG. However, average return on equity was 8 percent compared with 11.6 percent in 2009, while the level of impaired loans as a percentage of total lending was 3.4 percent, double the pre-crisis level of 1.6 percent, it said.
Before it's here, it's on the Bloomberg Terminal.
LEARN MORE