Predicting Growth With Steel Sales, Sowing
Economists in India look at a variety of data in the absence of reliable indicators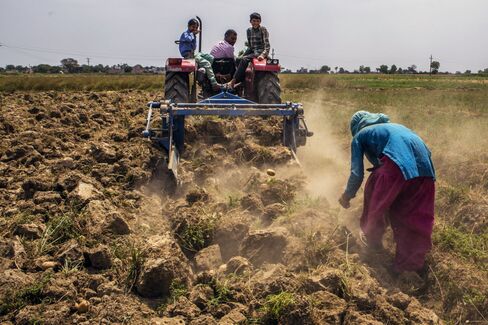 Making economic forecasts is a difficult exercise in the best of times, especially in a country without even a regular employment indicator. So what else can you look at? In India, where the government's new methodology to calculate gross domestic product propelled the country's expansion pace above China's, puzzled economists scrutinize everything from steel sales to crop sowing to get a more accurate picture.
In a recent Bloomberg survey asking economists to name their favorite indicators, 17 of them listed more than 20 categories. Excluding the consumer price index, which Reserve Bank of India Governor Raghuram Rajan established early on as his favorite gauge of inflation and is on everyone's checklist, credit growth -- at its lowest in more than five years -- was the most popular. Lower interest rates aren't trickling into the economy yet, as banks resist passing them on to customers.
Next came industrial production, a monthly indicator that's been volatile, but captures a range of data including on eight so-called core sectors such as electricity, cement and fertilizers.
"Five of the eight sectors have shown negative growth rates, which is worrisome as four of them also had low or negative numbers last year," said Madan Sabnavis, chief economist at CARE Ratings in Mumbai.
Another favorite was imports stripped of oil and gold, to get a sense of whether domestic demand is picking up.
"It is clear that imports generally have struggled, contracting for nearly two years between mid-2012 and mid-2014," wrote Shilan Shah, an India analyst at Capital Economics.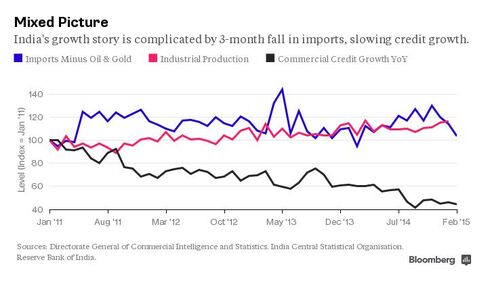 Some economists dived deep: sowing numbers to help predict inflation; cement and steel sales to gauge industrial activity; air traffic and tourist arrivals for services.
Indian economists aren't alone in looking at granular details. In China, Premier Li Keqiang, then Liaoning Province Party Secretary, reportedly told the U.S. ambassador in 2007 that he preferred looking at electricity consumption, rail cargo volumes and loan disbursements rather than an unreliable, man-made GDP, according to diplomatic cables released by Wikileaks.
In India, while the official data showed the economy probably expanded a brisk 7.4 percent in the fiscal year through March 31, Governor Rajan delivered a second interest-rate cut in seven weeks last month, noting that the upbeat numbers don't square with other economic data.
So the lesson for central bank watchers trying to predict the next move on April 7? Leave the official GDP aside and examine the other numbers, says economist Radhika Rao, at DBS Bank in Singapore.
"That will give you a better sense of where RBI is headed."
Before it's here, it's on the Bloomberg Terminal.
LEARN MORE