Latin America's Best Bond Rally Started With a Call to Investors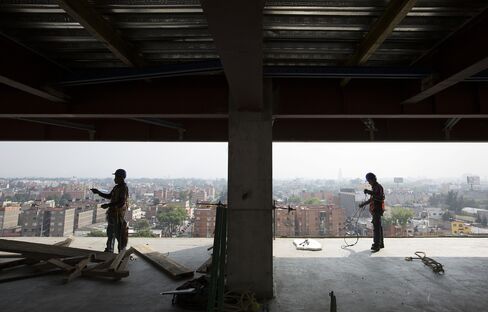 After watching their bonds plunge week after week for the better part of three months, executives at Mexican construction company Empresas ICA sprung into action.
Having gathered investors and analysts for their quarterly earnings call on March 2, company officials used the 47-minute session to unveil a plan to sell assets and cut debt.
For those who dialed in -- a group that was mainly concerned about how ICA's infrastructure business would be hurt by government spending cuts -- it was the right message. By the end of that week, ICA's dollar bond due 2024 had gained 11.4 percent, and after a month it's returned 18.2 percent. No corporate bond in Latin America has handed investors a better return over that period.
"Everything fell out of bed at the beginning of the year," said Carlos Legaspy, the chief executive officer of InSight Securities Inc., which oversees $350 million in emerging-market debt. "The world didn't come to an end, and now the market is slowly coming to its senses."
The bond selloff resulted, indirectly, from the plunge in oil prices, the funding source for about a third of the Mexican government's budget. Finance Minister Luis Videgaray on Jan. 30 disclosed plans for spending cuts, with about 15 percent coming from public-works projects, including a passenger train in the Yucatan peninsula and a high-speed rail project between Mexico City and Queretaro.
Project Backlog
At the end of September, just before the steepest oil selloff began, public-sector clients accounted for almost 80 percent of ICA's backlog of projects.
The market rebound is a significant victory for ICA. The day before the conference call, its dollar bond maturing in 2024 yielded 15.77 percent. The yield has since tumbled to 12.64 percent.
"The movement in the bonds is more of a response to market behavior than anything at ICA," Gabriel de la Concha, who was named the company's chief financial officer on March 18, said by phone from Mexico City.
ICA's bonds got an additional boost on March 12, when CEO Alonso Quintana said at an industry event that the Mexico City-based company was working with the government to attract private investments in infrastructure. Both pension and investment funds could be tapped, he said.
Such partnerships could provide a significant boost to ICA, said Luis Maizel, who helps manage $5.5 billion of fixed-income securities as co-founder of San Diego-based LM Capital.
Homebuilding Industry
"They are almost the only game in town in major infrastructure," he said.
Mexico's peso fell 0.5 percent Monday to 14.8947 per dollar at 2:53 p.m. in New York.
ICA sold the 2024 bonds in May 2014 after surviving a collapse in the country's homebuilding industry the prior year. While ICA had a homebuilding unit, the company regained investor confidence later in 2013 after disclosing $600 million of asset sales, including tollway-operator holdings to majority-owner Goldman Sachs Group Inc.
On the conference call with investors on March 2, then-CFO Victor Bravo told analysts that the cost of ICA's dollar-denominated debt rose during the fourth quarter -- when translated back into pesos -- while leverage increased to 7.6 times adjusted earnings before interest, taxes, depreciation and amortization, from 7 times at the end of 2013.
The company also was hit by the drop in oil prices, Bravo said. The government-owned oil producer Petroleos Mexicanos is one of ICA's customers.
"They have decided they are going to go back to basics," Maizel said.
Before it's here, it's on the Bloomberg Terminal.
LEARN MORE