Lafarge Sees Beyond Dangote's Zambia Entry to Congo Demand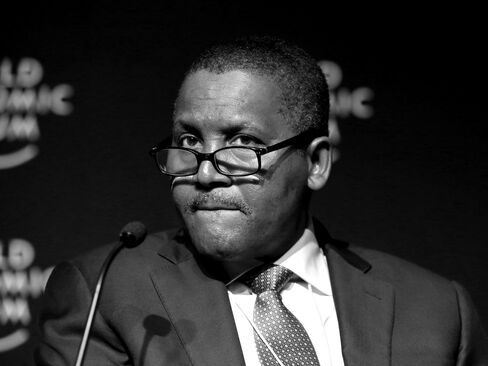 Lafarge Zambia Plc will begin work on a 200 million-euro ($219 million) cement plant this year even as Africa's richest man, Aliko Dangote, starts up his own factory in the country and economic growth slows.
Construction on the expansion in Lusaka, the capital, will start in the second-half of the year and be complete in 2018, Emmanuel Rigaux, chief executive officer of the Lafarge SA unit, said in an April 1 interview. The work will double Lafarge's plant in the city, adding 1 million metric tons of capacity.
Dangote Cement Plc was due to start production at its $400 million Zambia facility last month, challenging Lafarge's dominance for the first time since it was founded in 1949 to supply cement for Kariba, at the time the world's biggest dam. The Dangote plant will produce 1.5 million tons a year, more than Lafarge's two existing factories combined. Even so, the expansions won't cause a glut, mainly because of demand from the neighboring Democratic Republic of Congo, Rigaux said.
"The growth there is massive, in fact it's even higher than in Zambia," he said. The DRC "has one of the lowest cement consumption per capita and one of the highest growth rates in the world," he said. "It's a perfect combination."
Dangote plans to start work on a second plant, the same size as its existing facility in Ndola in Copperbelt province, the state-owned Zambia Daily Mail reported last month. A spokesman for Lagos-based Dangote, Africa's largest producer of the building material by sales, didn't respond to an e-mail seeking comment.
New Entrants
"I'm sure new entrants will want to look at the feasibility of adding new capacity in a market where we are ourselves bringing a lot of new capacity online," Rigaux said.
Lafarge Zambia, 75 percent-owned by its Paris-based parent, produced 1.2 million tons of cement in the country last year. Shares in the company have gained 8 percent in the past 12 months in Lusaka trading.
The company is arranging funding for the Lusaka expansion, part of which will come from internal cash flows, Rigaux said. Lafarge Zambia will seek to finance some of the 200 million euros in kwacha, and the rest offshore, he said. High interest rates in Zambia make raising cash locally difficult, he said, estimating that the company will complete the financing by mid year.
The market may not be able to absorb the additional volumes of cement, said Brian Chintu, who helps manage almost 800 million kwacha ($106 million) in assets, including Lafarge Zambia stock, as head of investments at Madison Asset Management Co. in Lusaka.
Price Wars
"We're going to see some price wars," Chintu said by phone. "We're going to see pressure for Lafarge to reduce their prices. We anticipate reduced profit margins for Lafarge. Definitely there is a risk of getting an oversupply."
Zambian economic growth is slowing as the government grapples with a budget deficit that helped push the kwacha to a record low last month. The DRC has overtaken its neighbor as Africa's biggest copper producer. The International Monetary Fund estimates 2014 economic growth of 5.5 percent in Zambia, the slowest pace in 12 years.
Economic expansion at that pace would still translate to 10 percent growth in the Zambian construction industry, Rigaux said. While commercial and retail development may have peaked in Lusaka, spending on infrastructure in other provinces is continuing, he said.
Retail Expansion
Hydropower projects in the DRC and Zambia are adding to increased demand in the region, Rigaux said. The company is in talks to supply the $660 million Busanga hydropower power project in Katanga. Zambia and Zimbabwe are repairing the Kariba dam wall as part of a $294 million project agreed to in February.
The economy in the DRC, whose Katanga copper-mining province borders Zambia to the north, is expanding faster and grew by 9 percent last year, according to IMF estimates.
Lafarge can probably serve a population as big as 13 million in DRC's Katanga and Kasai-Occidental provinces, where the company expects construction to increase as rising incomes prompt the building of shops and malls, according to Rigaux.
"Retail is just starting in the DRC," he said. "Where Zambia was five years ago is where the DRC is today."
While the company exports cement to the DRC from its plant in Ndola, in Zambia's Copperbelt province, it plans a facility near Lubumbashi, the capital of Katanga, Rigaux said.
A grinding station to process material from the Ndola plant should cost a minimum of 25 million euros and may start producing in 2019, after which Lafarge may build a full cement plant, he said.
Before it's here, it's on the Bloomberg Terminal.
LEARN MORE